Pros
Colour screen
High screen resolution/density
Great hardware specs
Very versatile
Sophisticated native reading & note-taking apps
Handwriting search/conversion
Google Play Store
Frontlight
Optional keyboard attachment
Onboard GPU & Boox Super Refresh Tech
Audio (speakers and microphone)
16MP rear-facing camera
MicroSD card slot
Cons
Expensive
Steeper learning curve
Some chassis design flaws
Heavy
Writing feels a little 'slippy'
GPU/Super Refresh uses more power
Screen is slightly darker than Monochrome Tab Ultra
A powerful and versatile COLOUR e-ink tablet that is as close as you can get to a regular tablet/laptop.
Last updated: Sept 23
The Boox Tab Ultra C is almost identical to the Boox Tab Ultra (monochrome), with the primary difference being that it has a colour screen with a higher resolution. Both tablets use the same software, same hardware (apart from the screen tech) and the same chassis.
Therefore (to avoid repetition), I recommend that you first check out my Boox Tab Ultra review to get an understanding of both e-ink tablets, and then come back to this page to learn about the differences.
Kaleido 3 Colour Screen
The biggest difference between the Tab Ultra (TU) and Tab Ultra C (TUC) is that the TUC uses a colour e-ink screen.
E-ink's Kaleido 3 technology uses a colour filter array (CFA), which is a layer placed over the existing monochrome screen film to display colours. It builds on previous versions of Kaleido by increasing pixel density and colour saturation.
However, don't be fooled into thinking that the colours are as vibrant as they would be on an LCD/OLED monitor – colours are quite pale and washed-out in comparison. Boox does a great job of turning this into a positive by referring to the colours as 'soft' and 'pastel'. In addition, the CFA layer makes the whole screen slightly darker. On previous versions of Kaleido, the CFA layer was visible as a sort of honeycomb grid across the whole screen. Kaleido 3 seems to have made this almost imperceptible.
Overall, the Tab Ultra C is the best colour e-ink tablet on the market. Yes, the colours are pale and the screen is darker but it does look pretty damn fine.
As a side note, it's worth mentioning that e-ink manufactures a 13.3″ version of their Kaleido screen, so maybe we could expect a colour version of the Boox Tab X at some point in the future – of course, this is only speculation.
Resolution and Pixel Density
The TUC also has a higher monochrome screen resolution than the TU.
The TU has a screen resolution of 1404×1872 with a pixel density of 227ppi. The TUC has a resolution of 1860×2480 with a pixel density of 300ppi.
Of course, this is only for black-and-white viewing. When utilising colour, the TUC screen resolution drops to 930×1240 with 150ppi. However, this is much better than the previous e-ink colour tech, which had a maximum of 100ppi.
Overall, text on the TUC is very crisp and sharp and looks great.
Final Verdict
The Boox Tab Ultra C is definitely the most advanced and capable tablet on the market. It has fantastic hardware specs (including a dedicated GPU and Boox's SuperRefresh technology), a camera, MicroSD card slot, speakers, microphone, keyboard case etc.
And, to boot, it has a colour screen and 300ppi.
However, the colour screen does have a couple of minor drawbacks compared to monochrome Tab Ultra.
Firstly, because the screen looks darker overall, I found it necessary to activate the frontlight regularly to brighten it up a bit, which resulted in decreased battery life.
Secondly, I experienced a little ghosting when flicking through comics. If I'm honest, I don't know if it was in fact more ghosting or just that the ghosting was more noticeable on the colour screen. However, Boox does offer lots of settings for reducing ghosting, and I admit I didn't spend an awful lot of time fiddling with them.
Overall, if you're drawn to the TU and TUC, it's probably because you want an e-ink tablet that is as close as possible to a regular LCD/OLED tablet. If you just want primarily a note-taking tablet, then the Supernote A5X or Boox Note Air 2 Plus might be a better fit. And, if you are looking for a more affordable Kaleido 3 screen, then the smaller Boox Tab Mini C may be worth considering. You can check out the best e-ink tablets (in my opinion) here, or use my e-ink comparison table to find the device that is right for you.
The TUC improves on the raw power and versatility of the TU because you are not restricted to the grayscale palette. But it is worth thinking very carefully about whether you actually need colour, or if it is just a novelty.
For me, most of my work can be done in monochrome and there's something I just love about a black-and-white screen. So, given the choice, I would probably save $100 and go with the TU. However, if you read a lot of textbooks with colour diagrams or comic books, or prefer to write/sketch/highlight with colour, then, of course, the TUC would be the best choice.
Click here to buy/check prices for the Boox Tab Ultra C (goes to Boox Store/Amazon).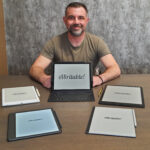 Dan Dutton is passionate about E-ink writing tablets, which bring together the pleasure of writing on paper with the power of digital technology. When he bought his first tablet, he realised that there wasn't a lot of unbiased information available for people that were considering buying an E-ink tablet, and so he built eWritable.