I have not yet purchased a review unit of the Lenovo Smart Paper (reviewing e-ink tablets is costly in terms of both money and time).
When I have bought and used this tablet, I will write a review for it here.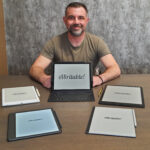 Dan Dutton is passionate about E-ink writing tablets, which bring together the pleasure of writing on paper with the power of digital technology. When he bought his first tablet, he realised that there wasn't a lot of unbiased information available for people that were considering buying an E-ink tablet, and so he built eWritable.