Pros
Great hardware specs
Very versatile
Sophisticated native reading & note-taking apps
Pleasant writing feel
Handwriting search/conversion
Google Play Store
Frontlight
Audio (speakers and microphone)
Portable
Cons
Small screen size
Steeper learning curve
Variable performance of Android apps
The Boox Nova Air2 has a solid hardware spec, with some awesome native apps and the option to extend functionality by installing apps from the Google Play Store.
Last updated: September 2023
The Boox Nova Air2 is Boox's flagship 7.8″ monochroming e-ink writing tablet (for Boox's 7.8″ color tablets, check out the Nova Air C, or newer Tab Mini C).
This will only be a short review because much of the information relating to the Boox's operating system and native apps can be found in my Boox Note Air2+ review – this is a 10.3″ tablet that runs the same software as the Nova Air2.
Therefore, I will focus this review on the hardware difference between these two devices – this way, I avoid having to write (and you avoid having to read) virtually the same thing on two different pages.
The 7.8″ screen
As stated previously, the Nova Air2 has a 7.8″ (A6-sized) screen, which is about the smallest screen sizes are for e-ink writing tablets (the now defunct Mobiscribe Origin was slightly smaller).
Personally, I find tablets of this form factor cumbersome to write on. I always feel that I do not have enough room for a page of notes – of course, I could just start a new page, but I try to keep my notes as 'a subject per page' wherever possible and I feel that a page that is approximately the size of an A6 piece of paper is not enough.
Similarly, I often use the split-screen function to have a document open on the left of the screen and a notebook open on the right so that I can write down my thoughts as I am reading. Split-screen mode divides the screen into two areas that are half the size of the small screen (A7) and on a 7.8″ screen is simply too small to read. This is most striking when viewing a fixed-layout PDF.
However, I do acknowledge that this is a 'me problem' and can fully appreciate that others will have no issue at all, particularly those that are used to writing in small pocket notebooks. And I can also see how the smaller form factor, lighter weight, and ultimately, the enhanced portability will be a major selling point to some people. And, of course, the smaller screen means that the tablet is more affordable than the larger options.
Hardware specs
Like all Boox tablets, the Nova Air2 has high-spec hardware (for an e-ink tablet), which makes performance very fast in a variety of tasks.
There's an octa-core processor, with 3Gb of Ram and 32Gb of storage. In addition, Boox's software provides several options for installing third-party apps and configuring the refresh rate, so there is a lot of potential power and versatility.
In addition, the Nova Air2 has a frontlight (with warm and cold settings), speakers, and a microphone, which extends its flexibility even more. For example, you can listen to audiobooks and podcasts, record voice notes and read books in environments with little ambient light.
Battery life lasts for several days (and possibly weeks) dependent on usage and factors such as how often the frontlight is turned on and which apps are being used.
Writing experience
The tactile writing feel on the Nova Air2 is very similar to that of the Note Air2+. There is a somewhat grainy texture that makes a satisfying scratching sound as you write (unlike the more 'glassy' feel of newer Boox tablets, such as the Tab Mini C).
Verdict
To conclude, the Boox Nova Air2 is, in my opinion, the best monochrome 7.8″ writing tablet on the market.
The main use case for me is as an ebook reader with the option to occasionally make some quick notes. For proper writing and journaling, I do prefer a tablet with a larger screen.
Another decent option in this form factor is the Supernote A6 X, which has an awesome note-taking app, but is not as flexible as the Nova Air2 with regards to other tasks, including reading. However, in recent months, it has been unavailable from the Supernote store and it seems manufacture of this tablet has ceased
The Meebook P78 Pro is cheaper but the native software is not as sophisticated and, although the writing experience is okay, it does not feel as pleasant or natural as it does on the Nova Air2.
Finally the Tab Mini C is Boox's latest 7.8″ colour tablet, with several performance improvements, including a dedicated GPU and proprietary screen refresh software, which makes screen movement appear a lot smoother. However, this does mean an increased power overhead, and the colour technology (Kaleido 3) makes the screen darker than a monochrome tablet, which means you may use the frontlight more. This can result in battery charge depleting faster than it might on a black-and-white tablet.
Click here to buy/check prices for the Nova Air2 (goes to Boox Store/Amazon).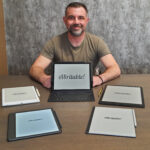 Dan Dutton is passionate about E-ink writing tablets, which bring together the pleasure of writing on paper with the power of digital technology. When he bought his first tablet, he realised that there wasn't a lot of unbiased information available for people that were considering buying an E-ink tablet, and so he built eWritable.