Pros
Colour screen
Great hardware specs
Very versatile
Sophisticated native reading & note-taking apps
Pleasant writing feel
Handwriting search/conversion
Google Play Store
Frontlight
Audio (speakers and microphone)
Portable
Cons
Small screen size
Honeycomb pattern across the screen
Steeper learning curve
Variable performance of Android apps
Screen is slightly darker than Monochrome tablets
The Nova Air C was one of the first colour e-ink screens on the market, however, it has recently been surpassed by newer colour tablets, such as the Tab Mini C.
Last updated: September 2023
The Boox Nova Air C is very similar to Boox's flagship 7.8″ monochrome e-ink tablet, the Nova Air2, with the main difference being that it sports a colour (Kaleido+) screen.
When this tablet was released in 2022, colour e-ink was still in its infancy and there were some compromises that had to be made.
Firstly, Kaleido technology is not a colour screen in and of itself. Instead, it uses a standard monochrome e-ink screen with a filter layer that displays colors. The drawback to this method is that the filter layer makes the screen appear darker than monochrome equivalents (and consequently requires the frontlight to be used more frequently). In addition, it is possible to discern the 'honeycomb' pattern of the filter layer on the screen – it is not prominent, but it is noticeable. Finally, many users report more frequent ghosting on the Kaleido Plus screen.
Overall, the Nova Air C feels like an intermediary colour device whilst we wait for the technology to advance.
Advancements in colour technology
Since writing this page, the colour e-ink screen technology has moved on somewhat and Kaleido 3 offers a better viewing experience. However, because Kaleido 3 uses the same filter-layer-over-monochrome that is present on Kaleido+, many of the issues still remain – but, they have been mitigated to a certain degree.
Kaleido 3 offers higher colour resolutions and screen density (150ppi rather than 100ppi).
Ghosting, whilst still an issue, is not nearly as problematic because of technologically advancements, particularly Boox's Super Refresh (on the Tab Mini C), which works in conjunction with a dedicated graphics processor. And Bigme have recently released a software update for their S6 Color+ that reduces ghosting.
The screen is still darker than monochrome counterparts, and the honeycomb pattern is still there, but it is not as visible as it was on Kaleido+ tablets.
E-ink also developed a pure colour screen technology (that does not use a colour filter) called Gallery 3, however, there is currently only one tablet that I know of that uses this screen (the Bigme Galy) and it is not all that great. Perhaps Gallery 4 will be the next big step.
The upshot is that, despite advancements in colour e-ink screen technology, there are still some trade-offs, so I recommend only getting a colour tablet if you really do need colours in your work. Newer Kaleido 3 tablets, such as the Boox Tab Mini C provide the best experience, however Kaleido+ tablets like the Boox Nova Air C are not terrible or unusable – they are just not as bright or vibrant as you might expect from an LCD/OLED screen.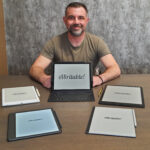 Dan Dutton is passionate about E-ink writing tablets, which bring together the pleasure of writing on paper with the power of digital technology. When he bought his first tablet, he realised that there wasn't a lot of unbiased information available for people that were considering buying an E-ink tablet, and so he built eWritable.