After less than a month of using my Kobo Elipsa 2E, I am sad to report that the screen has broken 🙁
Unfortunately, screen damage is not covered by Kobo's warranty or 30-day return policy. I spoke with a Kobo support representative over text chat and sent them a picture of the tablet and they informed me:
After analyzing the picture we observe that there are signs of psychical damage. Unfortunately this type of damage is not covered by the guarantee. eReaders contain a screen that uses electronic ink to simulate printing on paper. This type of display is very sensitive compared to iPads, tablets and other smartphones which many believe have the same lifespan. Physical damage does not necessarily occur when the device falls, but can be caused by unintentional / excessive pressure on the screen (this can happen when the eReader is placed in a bag / backpack). Unfortunately, the standard manufacturer's warranty does not cover this damage

Kobo Customer Support
This kind of response is not unique to Kobo – it is universal across all e-ink tablet manufacturers. If the screen is damaged, then it isn't covered. So, as sad as I am about the situation, I cannot complain too much about this policy.
However, following this experience, I do have concerns about the build quality of the Kobo Elipsa 2E.
This is because the Elipsa was stored in exactly the same way as all my other e-ink tablets….and the Elipsa was the only one that was damaged.
They all have protective covers (except my Kindle Scribe and reMarkable 2) and are kept in my rucksack. The rucksack is heavily padded and was not bumped or dropped at any point – I just use it to carry my stuff between my home and my office, which is a 5-minute walk away.
Some tablets have endured this journey for over a year without an issue – even the reMarkable 2 and Scribe (which I don't have protective covers for) have never experienced any damage.
However, it seems that it was too much for the Elipsa 2E, which didn't even make it to 30 days of ownership before breaking.
In the interests of fairness, this could have just been a freak occurrence that could have affected any one of my tablets, but the Elipsa was the one that drew the short straw on this occasion.
Or perhaps I was just carrying one-too-may tablets in my rucksack and the Elipsa just happened to be the one in the middle and so suffered the most compression (I don't remember which order they were in).
Whatever the reason, whether it be the build quality of the Elipsa, my own carelessness, or just bad luck, I felt I had to highlight my own experience.
Fortunately, I just completed my review of the Elipsa 2E yesterday, but I will update it with this experience.
If I'm honest, out of all the e-ink tablets I have, the Elipsa is perhaps the one that I would use the least, so I could say that I lucked out. Although it would not have been used very often, it would have been nice to have a Kobo in my collection to report on new software releases (and maybe I'll get another Kobo at some point once the pain of a wasted £350 dissipates!)
Kobo customer support did try to soften the blow by offering me a discount on a new device:
Please see below the offers we have currently available for you:

A. Kobo Nia £10 off
B. Kobo Clara 2E £20 off
C. Kobo Clara HD £20 off
D. Kobo Libra 2-Black £20 off
E. Kobo Libra 2-White £20 off
F. Kobo Elipsa £30 off
G. Kobo Sage £30 off

Kobo Customer Support
But whilst the experience is still raw, I don't feel like spending any more of my cash on a Kobo.
In the meantime, I guess I need to look at Kobo's eRecycling Program to dispose of my bricked Kobo Elipsa responsibly.
NOTE: After writing this, and reading the comments (below), I decided to pursue this matter further. The full email thread with Kobo Customer Support can be found here. In the end, I got a new Elipsa 2E.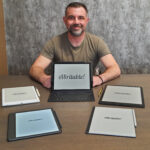 Dan Dutton is passionate about E-ink writing tablets, which bring together the pleasure of writing on paper with the power of digital technology. When he bought his first tablet, he realised that there wasn't a lot of unbiased information available for people that were considering buying an E-ink tablet, and so he built eWritable.