This is an objective information page for the Kindle Scribe e-ink tablet, with details of hardware and software specs, features, and capabilities.

My subjective review can be found here.

The Kindle Scribe is currently on my Top 5 Best E-ink Tablet List
DATASHEET
PRODUCT
KINDLE SCRIBE
Specs & ratings info

👍 Recommended

My Rating
Price (approx)
$340

Manufacturer
Amazon
Release year
2022
SCREEN
KINDLE SCRIBE
Screen type
Carta 1200
Screen size
10.2"
Screen resolution (B/W)
1830 x 2460 (approx)
Screen density (B/W)
300dpi
Colour

⨯

Screen resolution (Colour)
n/a
Screen density (Colour)
n/a
Frontlight
Wacom compatible
Buy
HARDWARE
KINDLE SCRIBE
CPU
1Ghz
RAM
1Gb
Storage
16-64Gb
Battery
3000mAh
Super Refresh

⨯

Keyboard folio

⨯

Speakers

⨯

Microphone

⨯

G-Sensor
Ceramic Tip

⨯

Bluetooth
Fingerprint scanner

⨯

SD card slot

⨯

Rear camera

⨯

Front camera

⨯

Waterproof

⨯

USB-C
Width
196mm
Height
229mm
Thickness
5.8mm
Weight
433g
Buy
SOFTWARE
KINDLE SCRIBE
Operating system
KindleOS
Google Play Store

⨯

Kindle support
Handwriting search

⨯

Handwriting conversion
Insert shapes

⨯

Insert images

⨯

Split screen

⨯

Custom templates

⨯

No. templates
15+
Brush types
Pen, Fountain Pen, Marker, Pencil, Highlighter
Screen share

⨯

ADE support

⨯

File formats
PDF, EPUB (via conversion), DOC, DOCX, TXT, RTF, HTML, KFX (Kindle), AZW3, MOBI (Limited support), AZW (Limited support)
File formats (image)
PNG, JPG, BMP, GIF
File formats (Audio)
AAX (Audible) via Bluetooth
Buy
PRODUCT
KINDLE SCRIBE
BEST FOR…?
Anyone wanting to take advantage of cutting-edge features and technology (such as Super Refresh, keyboard support and the OCR camera) and intends to use it for more than simply reading and note-taking.
HARDWARE
1GHz Mediatek processor with 1Gb of RAM
10.2″ (A5-sized) Paperwhite screen with monochrome resolution of approximately 1830 x 2460 (300dpi)
Options for 16Gb, 32Gb and 64Gb storage capacity (see pricing below)
3000mAh Internal battery
USB-C for charging and file transfer
Frontlight (warm & cold)
Wifi and Bluetooth connectivity
G-sensor (for autorotation of screen)
No speakers but audiobooks can be listened to via Bluetooth headphones
Metallic chassis
STYLUS
Included with the 16Gb model is the Basic Pen
The Basic Pen has no buttons or eraser
The Basic Pen is magnetic, so it can snap to the side of the Scribe
The Basic Pen requires tips to be changed (around once every 6 months, depending on usage)
The Basic Pen does not have batteries or need charging
The 32Gb and 64Gb models ship with the Premium Pen, which has an eraser at the top, and a shortcut button on the shaft, and is slightly heavier (everything else is the same as the Basic Pen)
There is an optional upgrade to the Premium Pen for the 16Gb version
Other Wacom-compatible styluses can be used
Pricing table for Amazon Kindle in GBP and USD
OPERATING SYSTEM
KindleOS (based on Linux)
Utilises the Kindle User Interface, with menu items for Home, Library, Current Book and Notebooks, and More (web browser, settings etc.)
Swiping down from the top brings up configuration options for the frontlight (including auto-brightness) and buttons for Aeroplane mode, Bluetooth, Dark mode, Sync, and All Settings.
Native apps that are built into the O/S are:

Notebooks – Digital notetaking app
Kindle E-reader – Multiformat book and document reading app

No access to the Google Play Store or the ability to install additional apps
FILE TRANSFERS
Notebooks can be organised using a hierarchical folder system
Ebooks/documents are organised using collections – basically, grouping similar books with the same tag/collection name
There are no options for tagging or favouriting notebooks
You can search for files or folder names
You can sort notebooks by most recent, title, type, date created and dated modified (ascending or descending)
There is no support for synchronising with third-party clouds – only the Amazon Kindle Library/Cloud
Notebooks can be exported via email in PDF format only
Notebooks are accessible from the Kindle app (but cannot be accessed on other Kindle e-readers unless exported as PDF first)
Files can be transferred to the Scribe via email, the 'send to Kindle' app and the chrome extension.
This method 'processes' the files so that they can be read on the Kindle Scribe (e.g. EPUBs are converted to Kindle's proprietary KFX format)
Files can be transferred/sideloaded onto the Scribe via a USB cable but this may lead to some unexpected behaviours (e.g. PDFs transferred in his way do not support handwritten annotations)
READING & ANNOTATING
The Kindle e-reader supports several file formats
However, this does not always mean native support as the process for transferring files to the Scribe may mean that they are converted into Kindle's proprietary KFX format
Kindle Scribe support handwritten annotation (writing directly onto) in PDFs – there are also a very limited number of Kindle books that support this feature
Kindle supports 'sticky notes' in books and documents – this inserts a small note icon in the text that can be tapped to show notes
Sticky notes can be typed text (using the on-screen keyboard) or handwritten
Text can also be highlighted
Kindle provides a summary of all sticky notes and highlights for quick reviewing
Handwritten sticky notes are not accessible via the Kindle app on other devices (text sticky notes and highlights are still available)
The Kindle e-reader has many reading features including a table of contents, bookmarks, text search, dictionaries, wordwise, vocabulary builder, X-ray and quote sharing
There are also lots of settings for viewing preference including font family, font size, font weight, spacing, margins, alignment and reading progress
Annotated PDFs can only be viewed on the Kindle Scribe itself – when viewed on the Kindle app on other devices, handwritten annotations are lost
However, handwritten annotations are preserved when the PDF is exported via email
The Kindle Scribe does not support split-screen viewing
The 300dpi Paperwhite screen is very clear and crisp
DIGITAL NOTE-TAKING
Kindle Scribe

notes are organised using multi-page notebooks. Notebooks can be organised with folders.

Brushes include pen, fountain pen, marker and pencil pen. There is also a highlighter.
There is a choice of five thicknesses for each brush. The only colour option is black.
Stylus pressure and tilt are supported for the pencil – the marker has a degree of pressure sensitivity
Typed text is not available
There is a regular eraser (five thicknesses) and selection eraser, as well as undo and redo buttons.
There is support for lasso selection (cut/copy/paste/move/resize)
There is support for handwriting-to-text conversion (exported via email as an attached TXT file)
There are almost 20 templates that can be chosen, however the same template must be used on every page of the notebook (you cannot select a different template per page)
CUSTOMER SERVICE
The Kindle Scribe is manufactured by one of the biggest corporations in the World, which should give customers some peace of mind
The Kindle Scribe is supplied with a 1-year warranty that covers any hardware defects (not caused by the customer)
There is also a 30-day guarantee, during which time buyers can return the tablet for a full refund or replacement
Amazon releases regular software updates for the Scribe
Amazon provide support via its online knowledgebase, user forum, telephone, and Live Chat
BUYING OPTIONS
The Kindle Scribe is only available from Amazon Stores
Shipping and taxes/customs duties are usually included in the selling price (if you buy from the Amazon Store in your country)
KINDLE SCRIBE BLOG POSTS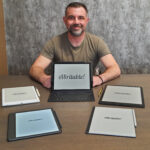 Dan Dutton is passionate about E-ink writing tablets, which bring together the pleasure of writing on paper with the power of digital technology. When he bought his first tablet, he realised that there wasn't a lot of unbiased information available for people that were considering buying an E-ink tablet, and so he built eWritable.