Pros
Colour screen
High screen resolution/density
Great hardware specs
Very versatile
Google Play Store
Frontlight
Bluetooth functions on stylus
Audio (speakers and microphone)
Front & rear-facing cameras
MicroSD card slot
ChatGPT integration
Cons
Small Screen
Expensive
Steeper learning curve
Screen is slightly darker than Monochrome tablets
Software and apps not as refined as competitors
No search within notebooks
A powerful and versatile 7.8" COLOUR e-ink tablet but the software and apps are currently a step or two behind the competition.
Last updated: September 2023
We have not yet carried out a hands-on review of the Bigme S6 Color+, however, it uses the same software (and very similar hardware) as it's larger sibling, the Bigme Inknote Color+, so we refer you to our review of this tablet to get an idea of what to expect.
The main difference between the S6 and the Inknote is that the S6 is smaller, using a 7.8″ (A6-sized screen) instead of the 10.3″ (A4-Sized) version on the Inknote.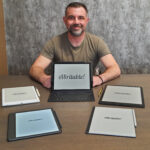 Dan Dutton is passionate about E-ink writing tablets, which bring together the pleasure of writing on paper with the power of digital technology. When he bought his first tablet, he realised that there wasn't a lot of unbiased information available for people that were considering buying an E-ink tablet, and so he built eWritable.