Pros
Decent e-reading software
Inexpensive
Lightweight & portable
Feels durable & robust
Integrates seamlessly with Amazon ecosystem
Cons
No warmlight or auto-brightness
Small screen
Not waterproof
Missing more advanced hardware features
Locked in to Amazon ecosystem
A very affordable entry-level e-reader that is lightweight and portable but lacks some of the additional features of more premium devices.
The Basic Kindle 2022 (11th generation) is Amazon's entry-level e-reader, costing just $85.
But is it as "cheap" as the price suggests?
Read on to find out more…
Software
I won't go into too much detail about Kindle's e-reading software because I've already written about that elsewhere.
But I do really like using Kindles for e-reading, primarily due to the software's simplicity. Features include:
a very good dictionary (along with Wikipedia definitions and translations)
the ability to adjust font-size and type
the ability to highlight passages of text and insert sticky notes (which can be displayed and downloaded as a summarised list)
Table of contents and bookmarks
Text search
Vocabulary builder and X-Ray
It really has everything you need to enjoy reading a book.
As long as you buy your ebooks from Amazon, a Kindle just works without having to mess about with any settings. If you just want to start reading with a minimum of fuss and effort and without a complex learning curve, a Kindle is always a good choice.
However, this simplicity is also a bit of a double-edged sword because it also means that you don't have some of the more powerful features of other e-readers (e.g. Boox e-readers) such as auto page-turn or custom margins for PDFs. Similarly, Kindles do not open as wide a range of file formats as Boox e-readers and cannot open ADE DRM-Protected files purchased from third-party bookstores (for this, you would need a Kobo or Pocketbook e-book reader).
Whilst it is possible to upload other (DRM-free) PDFs and EPUBs to your Kindle, these files are converted into Amazon's proprietary KFX format and some files (particularly PDFs) may not be displayed correctly. Not to mention the time it can take to transfer your ebook library over to Kindle, which can only be performed via email or the send to Kindle app.
So, if you already have an existing library, the Kindle software is not really all that cooperative in helping you to migrate. Similarly, it can be tricky to move e-books bought from the Kindle Store onto other e-readers.
But if you are new to e-readers or have no issue with being tied to the Amazon ecosystem, then you can't go far wrong with a Kindle. And at just $80,the Kindle 2022 is ideally priced for anyone that is new to e-reading and just wants to test the waters.
When buying the Kindle 2022, there is an option to have around $10 knocked off the price by allowing advertisements on the lock-screen. My recommendation from my personal experience is to pay a little extra and have lock-screen ads removed because they can be slightly irritating.
I don't have an issue with the ads themselves (although there is the potential that a 'personal recommendation' could be embarrassing if the wrong person looked at your Kindle). My issue is with the additional time it takes to unlock the e-reader from sleep mode. Without the ads, you simply press the power button and continue reading. With the ads, you press the power button, and then another advert is shown, and then you have to swipe the screen to close it. It may not seem like a great hardship but having to do this every single time you want to use the e-reader soon becomes tedious – and right now, I'd gladly pay $10 (or more) to have it removed.
Design & Build
Whilst the Kindle 2022 is not the most elegant-looking e-reader, it is built for practicality.
The plastic chassis is solid and robust and I get the feeling that it will not break very easily. As a testament to this, it has been travelling around in my rucksack for several months, without a cover/folio, and (other than a few small scuff marks), it still looks great.
The type of plastic that has been used is not coarse but it does have a certain friction to it that makes it easy to grip, and I never felt that the Kindle 2022 was going to slip out of my hand (as I experienced with the Kindle Oasis' metallic shell). The bottom bezel (being wider than the other sides of the frame) provides a place to rest your thumb without obscuring the screen.
Unlike other Kindles, the Kindle 2022 has a recessed screen that is not flush with the bezels. Some people dislike this design because it can be prone to collecting dust and hair around the edges of the frame. Personally, this doesn't really bother me all that much – a quick clean with a screen wipe every now and then sorts it out. However, I admit that it can sometimes be a little irritating when there is a dark hair caught in the bezel, contrasting heavily with the white screen and distracting me from my reading – and when I try to flick it away, I make several inadvertent page turns but the hair doesn't budge!
It's physical dimensions are smaller than other Kindles, which means that it fits comfortably into my jeans pocket if I want to go on a walk and read outside. Its weight of just 158g adds to the Kindle's portability, and also makes it very comfortable to hold for long periods.
The edges are smooth and rounded (again adding to the comfort whilst reading). Centrally-aligned on the bottom edge is the USB-C charging and data transfer port, and just to the right of this is the power button.
Overall, what the Kindle 2022 lacks in finesse is more than made up for by its portability and practicality.
Hardware
As you might expect from an entry-level e-reader, the hardware specs of the Kindle 2022 have been trimmed back to ensure it remains affordable.
However, it remains a very capable e-reader and you are unlikely to experience any performance issues. Costs are saved primarily by using a smaller screen size and by removing some non-essential hardware features.
In the case of the former, the Kindle 2022 uses a 6″ monochrome e-ink screen. Although this does make the device smaller and lighter, it also means that less text can be displayed (per page and using the same font-size) than larger-screened e-readers, such as the Kindle Paperwhite. At a font-size of 4, this equates 50 less words per page (and consequently more page turns) – perhaps not a massive issue, but something to be aware of.
And, for the latter, the Kindle 2022 does not boast as many additional hardware features as other Kindles in the current range.
The frontlight is composed of far fewer LEDs (4 LEDs compared to the Paperwhite's 17, which means that the screen is not quite as bright when viewed in dim environments. However, if I'm honest, I found the frontlight to be perfectly adequate and the brightness perfectly adequate.
The Kindle 2022 does lack the warmlight that is present on more premium e-readers. This gives the screen a tint of red, which makes reading in the dark more comfortable. And there is no option for the frontlight to adjust automatically based on the ambient light.
The Kindle 2022 is not waterproof, there are no physical page-turn buttons, and the screen does not auto-orientate itself if you turn it upside-down. However, unless you really need these features, you probably won't miss them.
In terms of storage space, the Kindle 2022 is shipped with 16Gb, which should be more than sufficient for most users' Kindle libraries – and even if it isn't, you can remove old e-books from the Kindle e-reader, whilst keeping them archived on the Amazon cloud if you need to download them again in future.
Overall Verdict
The Kindle 2022 is a simple e-reader that offers the basic features that you need to read books. And it does this job really well. It is also lightweight, portable, and robust.
However, it does not have all the bells and whistles that you might find on other e-readers.
The screen is small and recessed, it is not waterproof and does not have a warmlight or auto-brightness. It also does not have additional features like wireless charging or mobile connectivity that is available on more expensive Kindles. Neither does it have speakers, page-turn buttons, MicroSD card slot, nor other hardware features as are available on other e-readers.
You are tied into Amazon's ecosystem (which, for me, is not such a terrible thing) and although it is possible to transfer e-books from other stores onto a Kindle, it is not a simple process. So, if you buy a Kindle, you should understand that you will also be buying most of your e-books from the Amazon Kindle Store.
Overall, I think that the Kindle 2022 is a perfectly capable entry-level e-reader that fulfils its prime directive (of providing an e-book reading experience) very well.
It would be ideal for somebody that is new to e-readers and simply wants to read books, without a steep and complex learning curve.
For an overview of all KIndles, I have written an article comparing them here. And you can check out my fully-searchable e-reader comparison matrix here.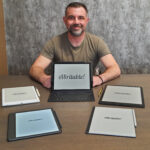 Dan Dutton is passionate about E-ink writing tablets, which bring together the pleasure of writing on paper with the power of digital technology. When he bought his first tablet, he realised that there wasn't a lot of unbiased information available for people that were considering buying an E-ink tablet, and so he built eWritable.