Pros
Inexpensive
Android 11
Google Play Store
Frontlight (inc. warmlight)
MicroSD Card Slot
Speakers and Microphone
Nice little e-reader
Cons
Small screen
Poor customer support
Poor tactile writing feel
O/S is a little 'clunky'
Some bad translations from Mandarin
Limited note-taking capability
The Meebook P10 Pro is a budget 7.8" Android-based E-ink tablet. It's pretty good for reading and okay for writing, but there is virtually no customer support.
In this article, I will be reviewing the Meebook P78 Pro e-ink tablet.
The Meebook P78 Pro is an e-ink tablet that several eWritable users have asked me to review over the past six months.
Although it is more affordable than other e-ink tablets in its class, there does not seem to be an awful lot of literature about it – and the manufacturer has a very limited online presence.
For this reason, I've sort of avoided buying a test unit, but this month money is a little tight and I can't really afford one of the more expensive e-ink tablets that I wanted to review, so I bought a Meebook P78 Pro instead.
Read on to find out if the Meebook is a budget alternative to other e-ink tablets on the market or just a heap of cheap trash…
My review is split into eight categories; Unboxing, Design & Build, Hardware, Note-taking, Reading, Organisation, Versatility, and Customer Service.
Unboxing
I ordered the Meebook P78 Pro from Amazon, and it arrived two days later. One of the features listed on the back of the box (Safe for Eye) was my first introduction to the many slightly inaccurate translations between Mandarin and English (or Chinglish).
Inside the box were the Meebook tablet, a small instruction leaflet (more Chinglish), and a USB-C cable.
I also got a free case for the tablet thrown into the deal.
At this point, I remembered that the Meebook P78 Pro doesn't ship with a stylus, so I had to order one from Amazon and wait another day for delivery. In total, the package came to £280 (£240 for the tablet and case and £40 for the pen).
Next, I started the Meebook for the first time.
Design & Build
The first thing I noticed about the Meebook P78 Pro is that it was surprisingly well-built.
It has a flush screen and hard plastic chassis, with nicely rounded corners. Although it has a slightly larger footprint than other 7.8″ e-ink tablets and is a little thicker and heavier, the build quality is good and it feels durable enough to cope with daily rigours and stresses.
The power button is located on the top right edge, and there is a single touch-sensitive 'back' button in the centre of the bottom bezel, which is used to navigate back to the previous screen.
On the bottom edge is a centralised USB-C port, with two speakers on either side of it. On the right edge (about a third of the way from the top) is the MicroSD card slot. Note that you will need a small pin or ejector tool to open the tray.
The case is okay – as you would expect, it does not have the premium feel of the folios of some of the more expensive e-ink tablets, but it feels good enough to do the job. The Meebook is squeezed into a flexible gel casing which holds it in place very snugly, without danger of it becoming loose and falling out. There is also a pen loop for the stylus.
Hardware
The hardware specs of the Meebook P78 Pro include a 1.8GHz quad-core processor, with 3Gb Ram, which is pretty solid for an e-ink tablet.
There is also a respectable 32Gb of storage space, which can be expanded by inserting an SD Card. This should be more than sufficient for most people's notebooks, apps and ebook libraries.
It has a 3200mAh battery, which is one of the best in its class, and should give several weeks' worth of reading time.
There's a frontlight (with the option to also adjust the red warmlight) along with in-built speakers and a microphone. There is no g-sensor for auto-orientation between landscape and portrait, but page orientation can be changed manually.
The Meebook Pen/Stylus does not use Wacom EMR technology which has become a standard amongst its peers. Instead, it uses active capacitive technology, and, for this reason, it requires a AAAA (that's four A's) battery for power.
For me, this makes the stylus feel quite top-heavy and unbalanced. It also means that at some point the battery is going to die and I will no longer be able to write unless I am also carrying a spare battery around with me! If I were using the Meebook as my primary note-taking device, I imagine this could be a little frustrating!
The pen has two buttons – one is a stroke eraser and the other is a selection eraser. So, they're both erasers – it would have been useful to be able to change one of them to the lasso selection tool but if there's a setting for it, I was unable to find it.
I'm also pretty sure the nibs on the Meebook stylus are not replaceable, which means if it breaks, it would mean buying a whole new stylus. However, the nib feels pretty hard and does not appear to be made of the kind of material that will wear down quickly.
Organisation
Notebook organisation on the Meebook uses a flat file structure – there is no option to create folders or subfolders for hierarchical organisation. However, there is an option to put notebooks into 'groups', which are similar to tags. There is also a search function to easily find notebooks by their filename if you have created an unwieldy number of notebooks.
And within notebooks themselves, there is no way of organising your pages – there's no table of contents, keyword tagging or text/handwriting search.
Notebooks (or a selection of notebook pages) can be exported for viewing on other devices (only Meebook devices can open the proprietary notebook files natively). There are options to export locally (to the export folder on the Meebook) or to the Chinese Youdao cloud. Notebooks can be exported in PDF, PNG, or HTML format via these methods. There is also an option to export notebooks to Haoqingtech.com (the Meebook manufacturer's website) – this option provides you with a QR code with a temporary link to the website from which other Internet-connected devices can view (but not download) the notes.
Unfortunately, there is no way to export your notebooks straight to any other clouds, although it is possible to use a third-party app to synchronise your local export folder with a folder on your cloud drive.
For general file management, the Meebook provides functionality to connect to Dropbox, Google Drive or Baidu. This allows you to browse your cloud drive and download files from it. However, it is poorly implemented and, in my experience, it doesn't always work. A better option is to download and install the app for your favourite cloud drive from the Google Play Store – this has the added advantage of the Android operating system, in that when you long-press on a local file, there is an option to 'share' (or move) it to your cloud drive.
Files can also be transferred to and from the Meebook using the USB-C cable, or LAN sharing facility. With access to the Google Play Store there are also myriad options, such as installing an email client and emailing books/documents to yourself.
Note-taking
The first thing that I want to address with regard to note-taking on the Meebook is the tactile writing feel – it is rather poor when compared to other e-ink tablets.
Latency (the time between the pen touching the screen and a mark being made) is discernible – it is only a fraction of a second and it doesn't make the experience unbearable but it is noticeable. And because I am used to writing on e-ink screens that have indiscernible latency, this was an issue for me.
In addition, there is very little friction between the smooth screen and the hard plastic nib, which means that the writing experience feels quite 'slippy'. The hardness of the nib tap-tap-tapping on the hard screen also detracts from the overall writing experience. Another thing that I noticed is that if you haven't used the pen for a while, you have to press one of the buttons on the side to turn it back on before it will work.
Finally, the frontlight layer creates a tiny gap between the point that the nib makes contact and the point where the mark is made. This distance makes it feel as though you are writing about a millimetre above the paper, which can be somewhat offputting.
Almost all of these issues can be traced back to the fact that the Meebook uses the older Active Capacitive technology, as opposed to the far better Wacom EMR technology. Wacom styluses do not need batteries (or any power source) and have a much better writing feel.
Although the Meebook pen boasts 4096 levels of pressure sensitivity, it is actually more like 3; a light pressure, a normal pressure and a heavy pressure. And pressure sensitivity only seems to be implemented for the fountain pen tool (it doesn't work for the pencil tool). There is no tilt sensitivity, whatsoever.
The brushes that are available are a fountain pen, ballpoint pen (no different from the fountain pen except for a lack of pressure sensitivity), pencil (just draws fainter strokes) and a highlighter. There's a good range of stroke thicknesses, and you can set the colour to black (default), red, blue, green, or white. Of course, you can't see red blue and green on the Meebook's monochrome screen but you will be able to see it when exported. For some reason, you cannot select different shades of grey.
You can insert text, images and shapes into your notebooks, which is a nice little addition that not all e-ink tablets are capable of. The lasso selection tool allows you to move, resize, rotate, and copy/paste your handwriting and other elements.
And that's pretty much all you can do in the Meebook notebooks. There's no support for layers or handwriting recognition.
In all honesty, the note-taking capabilities of the Meebook are okay. By this, I mean it works; you can write and move/resize stuff, do a bit of drawing, and even add a few shapes or some images or a bit of text. But, if note-taking is your primary use case, the Meebook is way behind the competition.
Reading
Thankfully, the reading experience on the Meebook is much better than the writing experience.
The native e-reader app (creatively called MEE OS) is pretty good decent and supports all the major file formats that you would expect, including PDF, EPUB, MOBI, DJVU, CBR, CBZ, TXT, DOC, HTML, FB2, RTF and PRC.
I tested all file types and they format correctly and are quick to open and navigate. You can scribble on the pages and have access to all the regular fountain pen, ballpoint pen and highlighter (but no pencil for some reason) as well as the eraser. However, the undo/redo buttons seem to be missing.
PDF files can be exported (to the local export folder) with your handwritten annotations embedded.
There's an option to view a summary of all the highlights and handwritten notes you have made, as well as options to change the font, layout and orientation.
The Meebook is shipped with a Chinese dictionary, so you will need to manually install a dictionary in your own language.
Although the Meebook e-reader app is okay, there are better reading apps available, and because there is access to the Google Play Store, you can install whichever e-reader you like best (kindle, Kobo etc.)
Versatility
The Meebook is pretty versatile primarily because it runs an open version of Android 11 and has access to the Google Play Store.
This means that as well as installing your favourite e-readers, you can also install a plethora of other apps.
For example, you can install an email client (such as GMail), or a web browser (such as Google Chrome). You might even install messaging apps, such as Whatsapp or Facebook Mesenger. This makes the Meebook very flexible in what you can use it for – it doesn't have to be just a reading and note-taking device.
Having said that, not all apps are designed to work well with an e-ink screen. For example, Youtube technically works but the low refresh rate means it is a very poor experience. There is an option on the top menu bar to switch to A2 refresh mode, which improves the performance slightly, but it's still not something you would choose to use an e-ink screen for.
With its onboard speakers and microphone, the Meebook can also be used for things like audiobooks, text-to-speech, listening to podcasts, and recording voice notes.
And if you need extra storage space for all your apps, you can increase it by inserting an SD Card.
Customer Service
Haoqing (the manufacturer of the Meebook) provide very little support for their devices, and even if you do manage to make contact with someone, there is a massive language barrier (unless you can speak Mandarin). It might be difficult for them to understand the nature of your issue, and you may have difficulty understanding their response.
So, before buying a Meebook, you need to be aware that customer support may not be available, and if you have an issue, unfortunately, you are on your own.
Therefore, if you think the Meebook P78, might be what you are looking for, I would advise buying from Amazon so that you have a 30-day grace period during which you can return the device if it does not meet your needs.
Verdict
Although it might seem that I have been bashing the Meebook in this review, I must say that I have been pleasantly surprised with what it can do.
It has decent hardware specs, audio capabilities, and a frontlight, all for less than 300 quid.
As a note-taking tablet, it is pretty basic but as an e-reader it's actually pretty decent.
As I said before if you are buying a 7.8″ tablet primarily for note-taking, there are far better alternatives on the market and I would recommend spending a bit of extra cash to get either a:
But if you will mainly use it for reading, with maybe the odd bit of note-taking, I feel the Meebook isn't a bad deal at all.
Of course, you need to be somewhat technically minded to use the Meebook because it can be a bit unintuitive, has a lot of alert messages that are in broken English, and you are unlikely to get any support.
Click here to check prices for the Meebook P78 Pro (goes to Amazon)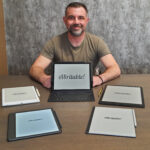 Dan Dutton is passionate about E-ink writing tablets, which bring together the pleasure of writing on paper with the power of digital technology. When he bought his first tablet, he realised that there wasn't a lot of unbiased information available for people that were considering buying an E-ink tablet, and so he built eWritable.