Pros
Large 13.3" screen
Great hardware specs
Very versatile
Sophisticated native reading & note-taking apps
Handwriting search/conversion
Google Play Store
Frontlight
Onboard GPU & Boox Super Refresh Tech
Audio (speakers and microphone)
Cons
Expensive
Steeper learning curve
Larger footprint
Stylus does not magnetically stick to the tablet
GPU/Super Refresh uses more power
The most powerful and versatile 13.3" (A4-sized) tablet on the market.
Last updated: September 2023
This is my review of the Boox Tab X e-ink tablet.
I've divided it into seven categories; Design & Build, Hardware, Note-taking, Reading, Organisation, Versatility, and Customer Service.
Design & Build
The Tab X is the successor of Boox's previous 13.3″ e-ink tablet, the Boox Max Lumi 2, and in terms of design and build, there is not a massive difference between them. In fact, if it wasn't for the fact that the Tab X is almost 4mm thinner and does not have the annoying button on the lower bezel, I would say that they are almost identical.
However, the familiar design is one that works really well, and the aluminium-magnesium alloy casing and Mobius Carta screen mean that the Tab X is lightweight (for a 13.3″ tablet) and has a level of flexibility that makes it feel very durable and robust.
Like the Max Lumi 2, the power button is located on the top right edge, with the USB-C port just left-of-centre on the bottom edge.
Overall, despite Boox not bringing anything drastically new to the design and build of their latest A4-sized tablet, it is a tried-and-tested configuration that works really well.
Hardware
The hardware on the Boox Tab X is of a very high specification, which means that it will run fast and multitask efficiently.
There is a 1.8GHz octa-core processor, along with a dedicated graphics processor and 6Gb RAM. There is also 128Gb of storage Gb of storage capacity.
In addition, the Tab X has hardware features that include an adjustable front light (with temperature adjustment), Bluetooth, dual speakers, microphone, and G-sensor (for automatic page orientation when the tablet is rotated).
Considering the addition of a G-sensor, and GPU chip, Boox has done well to make the Tab X thinner and lighter than the Max Lumi 2 (I now promise to stop comparing the Tab X with the Max Lumi for a little while!)
The main attraction of the Tab X is the 13.3″ (A4-sized) screen, which is ideal for those who want a larger viewing area for reading/annotating books and documents or a larger canvas size for sketching and note-taking. Personally, I much prefer a larger screen for making notes because I can fit more information on each page and I am less likely to run out of space. Consequently, a larger canvas seems to make my handwriting and layout look neater as well.
In addition, the Boox Tab X is a particularly useful tablet for those of us that regularly read and annotate PDF documents because PDFs typically have a fixed (non-reflowable) layout that has been designed specifically for the dimensions of an A4 sheet of paper. Although it is possible to view such documents on smaller screens, it is far more comfortable on a tablet with an A4-sized screen and massively reduces the use of the zoom function.
The Pen2 Pro that is shipped with the Tab X is Boox's premium stylus, however, it doesn't feel all that premium. It writes well and feels okay to hold but this is the minimum that I would expect from a stylus. If I'm honest, it feels quite cheap. The only real difference between this pen and Boox's standard pen is that it has a spring-loaded eraser at the top end. Like most e-ink tablet styluses (other than the Supernote), it uses interchangeable plastic nibs that wear down over time and need to be replaced.
Although the Pen2 Pro is magnetic, the Tab X is not, which means that the stylus will not attach to the tablet in this manner. Instead, you have to use the fabric loop on the side of the folio (sold separately) to keep them together.
Organisation
As with all Boox devices, the Tab X has a plethora of methods for transferring documents and notebooks to and from the device. These include:
Synchronisation with cloud drives
Android's share feature (e.g. share via Bluetooth, Email, Wifi etc.)
QR code (the PDF of the notebook is stored on the Boox cloud)
Via installed apps (e.g. GMail)
Via USB-C port/cable
Send2Boox Chrome extension
In short, there are more ways to transfer files between Boox tablets and other devices, such as your computer or phone, than any other e-ink tablet manufacturer. This is in part due to Boox devices running on Android 11.0 and having the option to install apps from the Google Play store – this will be covered in more detail in the versatility section below.
There used to be an Android app called Boox Assistant, which was very similar to the companion apps of other devices, however, this is no longer available on the Google Play Store. You can still download the APK for it from various websites, and there is similar functionality in Boox's web browser app. However, when I last used Boox Assistant and the browser app, it was quite clunky, buggy and unintuitive. But with all the other options available for file transfers and integration with other devices, there is, in my opinion, no need for a dedicated app.
The openness of Boox devices means that it is easy to navigate around the filesystem. The storage/files app shows the most commonly used folders of the home directory; Documents, Images, Download, Bluetooth, Music, Videos, APK and Font. But you are also able to access the full filesystem as you would with other Android devices (e.g. the DCIM folder). In addition, you can access the folders where your templates and exported (PDF) notebooks are stored.
If you use other devices with the Android operating system – for example, if you have an Android phone or tablet – the user interface of the Tab X will be very familiar to you, consisting of icons and widgets that can be dragged around according to your preferences.
Notebooks can be organised into hierarchical folders and subfolders. You can also locate particular notebooks and pages by using the search function. Searches can be filtered by title, text, tags and handwriting. However, be aware that if you have a lot of notebooks/pages, the handwriting search can take a very long time as the handwriting from all your notebooks has to be converted to text before it can be searched – more information about handwriting search can be found here.
Note-taking
Boox has developed one of the most comprehensive native note-taking apps on the market.
There's a selection of five different pen types; fountain pen, paintbrush, ballpoint, pencil and marker. Each brush has up to 20 different line thicknesses and there are 16 different colours to choose from. As well as black, white, and three shades of grey, there is also a palette of additional colours, including red, green, and blue – these additional colours are not discernable on the Tab X's monochrome screen but can be seen when the notebook is exported and viewed on a colour screen. Up to five custom pens can be added as buttons to the quick access bar for quick and easy switching.
There is an eraser (both standard and selection) and undo/redo buttons.
The Tab X supports layers and has a selection of 24 pre-installed templates (that essentially sit on the bottom layer). Additional templates can be downloaded from the cloud and you can also install your own templates.
Within your notebooks, you can insert text, images, files (attachments), links to pages/websites, and even voice recordings.
Any object (handwriting, images etc.) can be lassoed with the selection tool and moved, resized, rotated, flipped 180 degrees, cut, copied, and even tagged with keywords so that can easily be found using the search function. The search function also supports finding any hand-drawn asterisk (*) within your notebooks, which you can use to locate any important information you have written down.
There's handwriting recognition, which can be used to convert your handwriting to text – in my experience, it's not quite as accurate as the implementation on the Supernote but it is still very good.
The writing experience on the Tab X is okay, but (in my opinion) is not as pleasant as it is on other devices, such as the Supernote, reMarkable 2 and Kindle Scribe. The reMarkable and Scribe have a satisfying scratchy feel, akin to a pencil on grainy paper. The Supernote has a hard nib that feels like a gel pen on a plastic sheet. In contrast, writing on the Tab X feels a little unnatural. I should clarify that I am not saying that writing on the Tab X is bad – it has very low latency and implements pressure sensitivity pretty well – but in my subjective opinion, the tactile experience doesn't feel as natural or enjoyable as it does on the aforementioned devices. Having said that, the Tab X does feel nicer to write on (there seems to be more resistance) than the smaller Tab Ultra, which feels rather glassy/slippy.
Reading
Boox comes up trumps again with its comprehensive reading app, NeoReader, which is one of the best native e-readers of all e-ink tablets.
Neoreader supports a wide variety of file formats, including PDF, EPUB, MOBI, CBZ, CBR, AZW, AZW3, DJVU, TXT, HTML, RTF, FB2, DOC, PPT, CHM, PNG, JPG, TIFF, BMP. Unfortunately, it does not support ebooks that are protected with DRM, so you would have to use third-party apps rather than the native reader to view these files. For example, you can install the Amazon Kindle app to read ebooks that are stored in your Kindle library in Amazon's proprietary format.
NeoReader supports text-to-speech so that text documents and ebooks can be read out loud. There is also timed automatic page turns and a split-screen view so that, for example, you can have a document on the left side of your screen and a notebook on the right. You can search the text and get a summary of your bookmarks and annotations. Custom dictionaries are also supported. For ebooks, you can change the font family, weight and size. For PDFs, you can use the OCR functionality to extract text from the document.
Within Neoreader, you can annotate and scribble on all the file formats, but be aware that although you can view your handwriting on your Tab X, you will only be able to export embedded handwriting in PDF files for viewing on other devices.
Versatility
Because Boox devices run Android 11.0 and support the installation of third-party apps from the Google Play Store, they are very versatile e-ink tablets. The native software is very good but if it doesn't do something that you need, there's a good chance you can download an app to provide the functionality.
For example, the Tab X does not have native support for spreadsheets, but you can install the Android version of Microsoft Excel or Google Sheets to provide this functionality (although it can be a bit fiddly using the on-screen keyboard and you might consider connecting a Bluetooth keyboard). Similarly, there is no native support for reading Kindle books, but you can install the Kindle app.
Because the Tab X has integrated speakers and Bluetooth, you can listen to audiobooks or even podcasts.
Although there is a native web browser, if you use Google Chrome on your other devices, it is useful to install it on the Tab X so that you can access your bookmarks, favourites and stored passwords.
One of the difficulties with previous Boox devices is that you could install third-party apps but the slow refresh rate of e-ink screens meant that they were unusable. The latest generation of Boox devices (including the Tab Mini C and Tab Ultra C) have a dedicated GPU with Boox's Super Refresh technology. This means that refresh rates can be configured for each individual application. So, for example, you may configure a slow refresh rate for e-reading software, and a faster refresh rate for web browsing (to make vertical scrolling and animations smoother).
However, it is important to note that despite Boox's fantastic technology, the inherent limitations of an e-ink screen mean that it cannot compete with an LCD/OLED display for applications with high frame rates, such as watching video or animations. In addition, apps that have a lot of black areas on the screen or run in 'dark mode' do not perform well on e-ink. The use of third-party drawing/graphics/note-taking apps can also be a bit hit-and-miss. But Boox e-ink tablets, particularly the latest generation, are the closest thing you can get to the capabilities of an LCD/OLED tablet with an e-ink screen.
Customer Service
Customer and after-sales service with Boox can be variable. I believe this is primarily because Boox is a Chinese company and so they have a different business culture than what might be expected in Western nations.
My experience of support is that, on the whole, it is good. I usually get a reply within 24 hours, although sometimes it takes a little longer. The support team speak good English, however, they are not native speakers and so sometimes things can get lost in translation. Therefore, it is best to communicate clearly, in simple sentences and avoid the use of idioms and metaphors that could be taken literally.
Boox release regular software updates, and although they launch new products every year, they still provide support for older devices for several years.
Boox does have a 30-day return policy for purchases from their online store, however, you may be charged restocking and repackaging fees. You will also have to ship the product at your own expense to their warehouses in either the US, Hong Kong, or Germany. Therefore, if you live in a country where Boox has an Amazon Store, I recommend buying through this channel because you get a 30-day full money-back guarantee with free or low-cost local shipping. Further recommendations about where to buy Boox products can be found here.
Verdict
The Tab X is currently the most powerful and versatile 13.3″ (A4-sized) tablet on the market.
The hardware specification is fantastic and it has several additional hardware features, including frontlight, speakers, microphone, and G-Sensor. Despite the lower screen density of the Tab X compared to its 10.3″ counterparts, text and images are remarkably rich and clear.
Both the native note-taking and reading apps are excellent and if it cannot do something natively, there is the option to expand software capabilities by installing third-party apps. This feature also means that Boox devices have better integration with other software applications and are more likely to fit into your existing workflows.
One drawback is that the sheer versatility of the Tab X means that there is a steeper learning curve when you first use it, which can feel a bit overwhelming. Be prepared to spend some time experimenting with different apps and configuration settings whilst you get to grips with it and work out how it will fit into your existing workflows.
And, there are some tasks that are simply not practical to carry out with any e-ink device. This includes watching video, video conferencing and image/video editing.
Another downside of the Tab X is that it is very expensive, costing almost $900 USD. Most of this cost is due to the expensive 13.3″ screen. In addition, because these prices place the Tab X out of the price range of many people, lower quantities of these devices are manufactured, resulting in higher production costs and limited availability at times.
This is one of the reasons that there are very few e-ink tablets of this size on the market – sadly, if a larger screen is your number one priority, you don't really have many choices.
As previously mentioned, the predecessor to the Tab X (the Boox Max Lumi 2) has many of the same advantages, however, it does not have a dedicated GPU or Boox's new Super Refresh technology, which means that some applications will not work as well. In addition, the Max Lumi 2 has limited availability and you may have to turn to second-hand markets to get hold of one. There are a few other differences, which I discuss here.
The Fujitsu Quaderno A4 is perhaps the only other alternative in the 13.3″ category (discounting the Quirklogic Papyr which has now been discontinued). Personally, I've not tested the Quaderno myself, but it does have a dedicated user base that speaks favourably of it. It does not have the versatility of a Boox device, restricted primarily to reading/annotating PDFs and note-taking, but I've been told it performs these functions exceptionally well.
Finally, Ratta has stated that they intend to release a 13.3″ version of their Supernote product later in 2023.
Although the Max Lumi 2 and Quaderno A4 are a bit more affordable than the Tab X, they are still quite expensive, so if you are conscious of your budget, you may wish to look at tablets with 10.3″ screens such as the Supernote A5 X, reMarkable 2, or Kindle Scribe, all of which are in my Top 5 Best E-ink Tablets. The Boox Note Air 2+ might also be a consideration.
In summary, the Boox Tab X is a very powerful A4-sized tablet that is very versatile and powerful. However, this comes at a cost of almost $900.
Click here to buy/check prices for the Boox Tab X (goes to Boox Store/Amazon).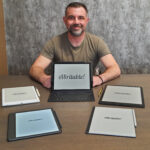 Dan Dutton is passionate about E-ink writing tablets, which bring together the pleasure of writing on paper with the power of digital technology. When he bought his first tablet, he realised that there wasn't a lot of unbiased information available for people that were considering buying an E-ink tablet, and so he built eWritable.