Pros
Inexpensive
Android 11
Google Play Store
Frontlight (inc. warmlight)
Speakers and Microphone
Cons
Small screen
Poor customer support
Poor tactile writing feel
O/S is a little 'clunky'
Some bad translations from Mandarin
Limited note-taking capability
The Meebook P10 Pro is a budget 10.3" Android-based E-ink tablet. It's pretty good for reading and okay for writing, but there is virtually no customer support.
We have not yet reviewed the Meebook P10 Pro, however, we refer you to our review of the Meebook P78 Pro, which uses identical software (and has almost the same hardware).
The P10 differs from the P78 in that it has a 10.3″ (A5-sized) screen rather than a 7.8″ (A6-sized) screen. However, the increase in screen size does result in a decrease in resolution and screen density.
In addition, the Meebook P10 Pro has more storage capacity (64Gb rather than 32Gb) and a larger battery.
Overall, Meebook products are okay, but it is important to understand that you are getting what you pay for. Whilst the reading software is pretty decent, the native note-taking software is very basic and does not have any of the more advanced features of leading products, such as the Boox Note Air2+ and Supernote A5X.
For some people, the lack of features will be fine – perhaps someone that will primarily use it for reading with occasional basic note-taking, will find the cost saving over more developed brands appealing.
But for those that will predominantly be using their tablet for note-taking will find the Meebook P10 Pro somewhat lacking.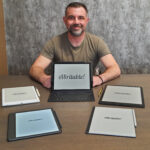 Dan Dutton is passionate about E-ink writing tablets, which bring together the pleasure of writing on paper with the power of digital technology. When he bought his first tablet, he realised that there wasn't a lot of unbiased information available for people that were considering buying an E-ink tablet, and so he built eWritable.