Pros
Decent e-reading software
Crisp and clear screen
Very good frontlight (with warmlight)
Auto-brightness
Page-turn buttons
Optional mobile connectivity
G-Sensor
Integrates seamlessly with Amazon ecosystem
Cons
Expensive (poor value)
Uncomfortable to hold
Hard to grip
Cold to the touch
Unstable on a flat service
Power button location
Micro USB port (not USB-C)
Locked in to Amazon ecosystem
The Kindle Oasis fails to hit the mark due to some terrible decisions about its design.
The Kindle Oasis is Amazon's most expensive e-reader, but does this mean it is the best?
Sadly not.
Read on to learn why I'm not a big fan of this device.
Software
I won't go into too much detail about Kindle's e-reading software because I've already written about that elsewhere.
But I do really like using Kindles for e-reading, primarily due to the software's simplicity. Features include:
a very good dictionary (along with Wikipedia definitions and translations)
the ability to adjust font-size and type
the ability to highlight passages of text and insert sticky notes (which can be displayed and downloaded as a summarised list)
Table of contents and bookmarks
Text search
Vocabulary builder and X-Ray
It really has everything you need to enjoy reading a book.
As long as you buy your ebooks from Amazon, a Kindle just works without having to mess about with any settings. If you just want to start reading with a minimum of fuss and effort and without a complex learning curve, a Kindle is always a good choice.
However, this simplicity is also a bit of a double-edged sword because it also means that you don't have some of the more powerful features of other e-readers (e.g. Boox e-readers) such as auto page-turn or custom margins for PDFs. Similarly, Kindles do not open as wide a range of file formats as Boox e-readers and cannot open ADE DRM-Protected files purchased from third-party bookstores (for this, you would need a Kobo or Pocketbook e-book reader).
Whilst it is possible to upload other (DRM-free) PDFs and EPUBs to your Kindle, these files are converted into Amazon's proprietary KFX format and some files (particularly PDFs) may not be displayed correctly. Not to mention the time it can take to transfer your ebook library over to Kindle, which can only be performed via email or the send to Kindle app.
So, if you already have an existing library, the Kindle software is not really all that cooperative in helping you to migrate. Similarly, it can be tricky to move e-books bought from the Kindle Store onto other e-readers.
But if you are new to e-readers or have no issue with being tied to the Amazon ecosystem, then you can't go far wrong with a Kindle (although perhaps not the Oasis for reasons discussed below).
Design & Build
One of the most important design aspects of an e-reader is that it should be comfortable to hold, particularly for long periods.
Sadly, the Kindle Oasis fails miserably in this regard.
Whilst the rear panel is made from a sleek-looking metal (which admittedly is aesthetically-pleasing), it is also rather slippy and difficult to get a firm grip. In contrast, other Kindles (apart from the Kindle Scribe, which has an entirely different use case) have a plastic shell which is far more more comfortable to grasp and doesn't feel like it could slide out of your hand at any moment. Another reason that I prefer a plastic chassis is that it is warmer to the touch than cold metal.
Billed as having an "ergonomic design", the Kindle Oasis is visibly thicker on the side that houses the page-turn buttons. This difference in thickness does not taper naturally into a sort of wedge-shape. Instead, the first third is about 8.4mm thick and the final two-thirds is about 3.4mm.
I believe that the reasoning for this is that much of the weight is distributed to one side and holding the Oasis on the thicker side makes it feel more comfortable. Whilst I agree that it is much more comfortable to hold the Oasis by the thicker side than the thinner side, it is not (in my opinion) as comfortable as holding a device that has the weight distributed evenly. Give me a Kindle Paperwhite any day!
This means that the Oasis does lie flat on a desk and wobbles if you tap the screen or page-turn buttons. I'm not sure what Amazon were thinking when they designed this. Perhaps they were trying to redesign the Kindle in new and innovative ways. And whilst this may look cool to a few, it looks utter shite to me and is not at all practical.
The power button is located on the lower edge of the thicker side, right next to where I am supposed to be holding the Oasis, which resulted in several occasions where I would inadvertently tap it whilst reading, knocking it into sleep mode. This was rather frustrating.
Admittedly, these misjudged elements of design could be mitigated by using a specially-design Oasis case/cover, however I am of the mind that I shouldn't have to outlay this additional expense (which is, for all intents and purposes, an optional extra) to fix the terrible design of the e-reader itself.
Another thing that I dislike about the design of the Oasis is its shape. Although the screen is only slightly bigger than the Paperwhite, the wider side-bezel makes its overall shape more square than rectangular. This means that if you want to carry it around in your pocket, you will need very big pockets!
Hardware
In terms of hardware, the Kindle Oasis has a pretty decent spec.
There's a 7″ 300PPI monochrome e-ink screen, which is flush with the bezel, very crisp and clear and offers very good contrast. It has both wifi and Bluetooth connectivity. And, like all models apart from basic Kindle, it is waterproof (but becomes even more slippery and difficult to hold in steamier or damper environments).
The screen has a frontlight for comfortable reading in dim or dark environments. There is also an option to change the temperature of the fronlight, that provides softer redder shades, which is great for reading in bed without disturbing your partner. You can also turn on an 'auto-brightness' feature which automatically adjusts the brightness of the frontlight depending on the ambient lighting in your environment.
In terms of storage space, there are two varieties; 8Gb or 32Gb. Although it seems odd to have a lower 8Gb option for what is supposed to be a premium e-reader, this should be sufficient for most users' e-book libraries. And for those with larger Kindle libraries, there is the 32Gb option. Another mystery is why there is no mid-range 16Gb option, but hey-ho!
If you go with the 32Gb Oasis, there is also the choice of whether you want to pay a little extra for mobile connectivity. This means that you can download your ebooks using the cellphone/mobile network rather than wi-fi. Personally, I'm a little unsure why anybody would need this feature. If you're going to be on the move, simply download your reading materials before you leave. And there's so many wifi hotspots available that you should be able to find somewhere to connect up – and, in the worst-case scenario, I can turn my mobile phone into a wifi hotspot and download over cellular through that instead. So, whilst I'm sure that one or two people would use this feature, for me, it is completely surplus to requirements for an e-reader.
It is the only Kindle with physical page-turn buttons (as opposed to tapping/swiping the screen on other models), so if you want the tactile experience of pressing a button to flip pages on a Kindle, the Oasis is your only choice from the current range.
It is also the only Kindle e-reader with a g-sensor (for auto-orientation of the screen if the Oasis is held 'upside-down')
Disappointingly, the USB charging and data transfer port is Micro-USB. These days pretty much all my devices are using the faster (both in terms of charging and data transfer) USB-C variety. So, it is a pain to have to dig out a different cable for this one device.
Overall, the screen and hardware is pretty good but is not really what I would call "premium".
Overall Verdict
The Kindle Oasis is supposed to be Amazon's premium e-reader (if we go by how much it costs compared to other Kindles).
Although the screen and frontlight are both very high quality (as would be expected from a Kindle e-reader), and it uses the Kindle e-reading software (which I honestly do really like), the design is just total garbage.
It is uncomfortable to hold, cold, slippy and also unstable when laid down on a flat surface. I also have to dig out an old-fashioned MicroUSB cable to charge it (which perhaps irritates me far more than it should).
If you are looking to buy the best Kindle on the market, this really isn't it. The Kindle Paperwhite is, in my opinion, a far better choice. And it is about 40% cheaper as well.
So, let's take a look at what the Oasis does that the Paperwhite doesn't.
Firstly, you can buy the Oasis with 32Gb of storage, whilst the Paperwhite has a maximum of 16Gb. I've said before that this should be sufficient for many e-book libraries, but if you do need the additional space, Amazon also sells the 32Gb Kindle Paperwhite Signature Edition (which is still better value than the Oasis).
The Oasis also has an optional feature for mobile connectivity. I've explained my reasoning as to why I feel this is a non-feature above.
The Oasis has eight more frontlight LEDs than the Paperwhite, but if I'm honest, I can't really perceive the difference. Both frontlights illuminate the screen sufficiently. The Oasis does have an auto-brightness feature, but again, if you really want this feature, the Paperwhite Signature Edition also provides it. The Oasis has an extra 0.2″ of screen size but its not really all that noticeable.
The only reason that I can think of for choosing the Oasis over a different model Kindle is that it has physical page-turn buttons. This is a feature that some people cannot live without, but for me, all the other drawbacks of the Oasis do not make up for this.
I even prefer to use my £85 Basic Kindle 2022 over the Oasis!
For an overview of all KIndles, I have written an article comparing them here. And you can check out my fully-searchable e-reader comparison matrix here.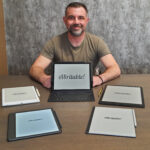 Dan Dutton is passionate about E-ink writing tablets, which bring together the pleasure of writing on paper with the power of digital technology. When he bought his first tablet, he realised that there wasn't a lot of unbiased information available for people that were considering buying an E-ink tablet, and so he built eWritable.