Pros
Boox Super Refresh
Android (support for 3rd-party apps)
Very portable
Great reading app
MicroSD Card
Speakers/Microphone
Camera
Cons
No native support for DRM-Protected ebooks
No mobile connectivity
Not ideal for PDFs
A very portable 'candy-bar style' Android e-reader that supports higher refresh rates and third-party apps.
When I first found out about the Palma, I was very excited. Had Boox succeeded where Hisense had failed? Would I finally be able to achieve my dream of replacing my Samsung LCD Android phone with an e-ink Android phone?
My excitement very quickly waned – the Boox Palma would not have a sim card slot.
My next thoughts were What is the point of the Boox Palma? and Who would use a phone-sized Android device that doesn't support mobile connectivity?
Whilst I pondered these questions, Boox sent me a review unit to check the Palma out for myself. I've been using it for a little over a month and my thoughts are below:
NOTE: For full transparency, the review unit that Boox sent me was a pre-release version and so may be slightly different from the final product. It had not been water-protected and the left sidebutton didn't work. In addition, there was no camera app installed. These issues will be (hopefully) ironed out in the final product release.
Design & Build
The Boox Palma's 6.1″ screen is flush with the bezel and the plastic chassis is textured on the rear to make it easier to grip.
Also on the rear panel is a 16Mp camera (with flash). It juts out ever so slightly so that the phone does not lay completely flat, however, it is not all that noticeable and nowhere near as bad as the Boox Tab Ultra camera.
On the right edge (towards the top) is a power button and volume up/down buttons, and on the bottom edge, the USB-C charging and data transfer socket sits between two speakers. On the left edge is an extra button which can be customised to either refresh the screen, go back, take a screenshot, page turn and a few other options. Just above this button is the MicroSD card slot (an extractor tool/pin is required to open it). On the top edge is the little hole for the microphone.
Overall, the Boox Palma is well-built and sturdy – and it was durable enough to be carried around in my rucksack for a month or so without a protective cover.
Hardware
Typically, Boox devices have higher hardware specs than similar e-ink devices and the Palma is no exception.
It has a 1.8GHz octa-core CPU and a dedicated GPU with Boox's Super Refresh technology that is used in its TAB line of products. This means that tasks that have traditionally had performance issues on e-ink screens due to the low refresh rate are now possible.
For example, I was able to browse the web smoothly without ghosting or the screen constantly refreshing. I was also able to watch some YouTube videos – the experience isn't great and I wouldn't want to be watching a lot of videos on the Palma, but it is possible. I was also able to use social media, including Facebook and Reddit.
There's a massive 6Gb of RAM and 128Gb of storage capacity, which can further be extended using the MicroSD Card slot.
The 6.13″ monochrome e-ink screen has a resolution of 824 x 1648 and a pixel density of 300 dpi.
Integrated into the screen is a frontlight with temperature (warm and cold) adjustment. In addition, the Palma has a g-sensor (for auto-orientation), Wifi, Bluetooth, Speakers and a Microphone.
The battery capacity is 3950mAh, and I was concerned that this might not be enough to power the dedicated GPU for long periods. But I was pleasantly surprised to find that I consistently got 2-3 days out of the battery from medium-to-heavy usage.
Software
The Palma runs Android 11 and has access to the Google Play Store, which means you can install whichever Android apps you regularly use (although that is not to say that every Android app will work as expected on the e-ink screen).
The native reading app, Boox Neoreader, is (in my opinion) one of the best e-readers available. It opens a wide range of files including EPUB, PDF, AZW3, MOBI, DJVU, CBR, CBZ, FB2, DOC, DOCX, HTML, RTF, TXT, CHM, JPG, PNG, GIF, BMP, TIFF and MP3. It also has lots of options for formatting ebooks and documents according to your own preferences.
Neoreader doesn't handle DRM-protected files but it is easy enough to install other e-readers for this functionality. I installed Kindle Reader, Kobo Reader, Pocketbook Reader and KOReader and they all worked fine. Audible worked perfectly as well.
Although there is a rear-facing camera on the Palma, there was no native app to access it on my unit. However, I installed an app called 'Open Camera' from the Play Store and was able to take a few snaps. I found it difficult to frame my photos using the black-and-white e-ink screen because it was hard to imagine what the picture would look like in colour. It was particularly difficult when there was not enough light because the shadows are larger and over-emphasised on the e-ink screen. But apart from that, the camera worked fine and when I opened the photos up on a colour screen, they looked great. I would hope that when the Palma is shipped, there will be a native camera app pre-installed (update – there's not a camera app).
I installed Google Chrome and was able to browse the web almost flawlessly.
I also installed GMail, Reddit, Facebook Messenger, Whatsapp, Google Calendar, and Google Analytics. And they were all perfectly usable.
My Experience with the Boox Palma
When I first got the Boox Palma and had a quick play around with it, I felt that it was a nice little device but that it wouldn't really fit into my everyday workflows and would have a very limited appeal.
But I was determined to give it a more thorough test, so I installed the Kindle Reader to pick up where I'd left off on my current ebook. The e-reading experience was very pleasant – the Palma is about the same size as my phone but much lighter, which made holding it for long periods very easy.
I then remembered that I had to send an email, but I was too lazy to get off the sofa and grab my phone, so I installed GMail on the Palma. I then thought that I could use it as a communications device and went on to install my regular communication apps, Facebook Messenger and Whatsapp.
At various points over the next few days, I would install more Android apps. One of the first was Google Chrome, then Google Calendar followed by Google Analytics, Facebook, and Reddit. All worked acceptably and I became less reliant on my phone. In fact, I really enjoyed doing most of my on-the-move daily tasks with the comfort of an e-ink screen.
I became very fond of the Palma and (for a while) it became my primary handheld device, with my phone being relegated to my rucksack for most of the day. Almost everything I used to do on my phone, I could now do on the Palma.
Except, I still needed to carry my phone around with me as well so that I could make and take calls, send and receive SMS messages and have a wifi hotspot for the Palma to connect to when I wasn't at home or the office.
And this is really where the Palma falls over (and it goes full circle back to my initial thoughts about the device). Without on-board mobile connectivity and support for a Sim Card, I still have to carry two devices around with me…and I'm not going to carry around two devices when one will suffice.
I looked into doing some sort of screen-sharing or mirroring between the Palma and my phone so that I could send/receive SMS/calls with the e-ink device but found nothing that was practical. And, even if it were, I'd still have the issue of having to carry around two devices.
After a couple of weeks, when the novelty of the Palma had worn off, I made the difficult decision to switch back to my Samsung Phone. For the most part, I loved the Palma, and if it could connect to the mobile network and be a true phone replacement, I would snap it up in an instant (a well-built Android e-ink phone is my dream). But, unfortunately, the Palma is missing the key connectivity functionality that I need.
Don't get me wrong – I do still use the Palma from time to time as a pocket-sized, lightweight and non-bulky ebook reader. But my phone is the only device that I need with me all the time, and so the Palma often just sits in my rucksack.
Verdict
I think that it is a little unfair that much of my review has been based on comparing the Palma to my mobile phone because this is not the use case that Boox envisioned for the device.
Boox has positioned the Palma as a Mobile ePaper device, offering users the ability to perform tasks typically done on Tab series devices in a portable format. Because it is equipped with a GPU that supports a fast refresh rate it is able to do a lot of things that an Android phone or tablet can do. And it can seamlessly integrate with larger-sized devices through the cloud, so if you have a Boox writing tablet, you can access your notebooks on the Palma.
Certainly, it is the most powerful and versatile 6″ e-reader available. It has fantastic hardware specs, is very portable, and is waterproof (contrary to my original belief, it is NOT waterproof, it is 'water-repellent').
So, I think if you are looking for a pocket-sized e-reader, the Boox Palma should be a consideration but only if you are likely to make use of its unique power, flexibility and extendability to carry out other tasks.
If you only plan on using it for reading, it might be a bit overkill particularly as it is also the most expensive 6″ e-reader, priced at $250 USD. More affordable options in the 6″ category include the Kindle 2022, Kobo Clara, and even the Boox Poke 5.
In summary, the Boox Palma is a thoroughly decent device – actually, I'll go further than that and say it is currently the best 6″ e-reader on the market – but this comes at a cost and I imagine that only a small subset of the market will be able to take full advantage of its power and versatility.
But if it had mobile connectivity….well, that would really disrupt the market…
The Boox Palma is currently available from the Boox Store
DATASHEET
Check out our fully searchable e-reader comparison table here.
PRODUCT
BOOX PALMA
Specs & ratings info

👍 Recommended

My Rating
Price (approx)
$280

Manufacturer
Onyx Boox
Release year
2023
SCREEN
BOOX PALMA
Screen size
6.1"
Screen density (B/W)
300dpi
Colour

⨯

Screen density (Colour)
n/a
Frontlight
Buy
HARDWARE
BOOX PALMA
Storage
128Gb
Super Refresh
Speakers
Microphone
G-Sensor
Bluetooth
SD card slot
Waterproof

⨯

Page Turn Buttons
Width
80mm
Height
159mm
Thickness
8mm
Weight
170g
Buy
SOFTWARE
BOOX PALMA
Operating system
Android 11
Google Play Store
Kindle support
ADE support

⨯

File formats
PDF, EPUB, DOC, DOCX, PPT, PPTX, TXT, HTML, RTF, FB2, CBZ, CBR, AZW3, MOBI, PRC, DJVU, CHM, ZIP
File formats (image)
PNG, JPG, TIFF, BMP
File formats (Audio)
WAV, MP3
Additional notes
Buy
PRODUCT
BOOX PALMA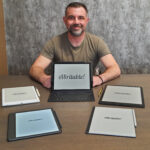 Dan Dutton is passionate about E-ink writing tablets, which bring together the pleasure of writing on paper with the power of digital technology. When he bought his first tablet, he realised that there wasn't a lot of unbiased information available for people that were considering buying an E-ink tablet, and so he built eWritable.