One of the first things a lot of e-ink tablet owners do after buying their device is to look for a PDF planner to organise their schedule and notes.
I was recently contacted by the creator of one such planner (Aaron from Hyperpaper) who offered me a review copy to try out. So, for the last week or so, I've been using Hyperpaper to record my notes and schedule, and on this page, I will be publishing my thoughts about it.
PDF Planners vs Native Notebooks
PDF planners utilise one of the strengths of e-ink tablets – the ability to annotate or 'scribble' over PDF files. They are specially-made templates with tappable hyperlinks to various pages and sections.
For full transparency, I must state that I do not usually use PDF planners myself – I prefer the flexibility of using the note-taking app, which gives me a blank canvas for each new page, rather than a static structure.
However, I do appreciate that a lot of people like their note-taking to have a structured format, and this is really where these sorts of products excel because it means that you do not have to worry about designing your own templates or inserting hyperlinks – the structure is already done for you, and all you have to do is fill in the information you want to record.
I tested the planner on my reMarkable 2 but it is also compatible with Boox, Supernote, Kindle Scribe and other devices.
The Structure of Hyperpaper's Planner
The first page of the 636-page Hyperpaper Planner I was sent is an index or table of contents to the various sections or pages of the PDF. Each of the other pages in the planner has a tappable link back to this index page for easy navigation.
On the reMarkable, the toolbar collapses neatly into a space in the top-left corner, however, if you want the fully expanded toolbar it will obscure part of the planner.
The Schedule
The calendar/schedule consists of sections for yearly, quarterly, monthly, weekly and daily records, so there is lots of flexibility for it to fit into your existing workflows.
The yearly calendar fits onto a single page and has tappable links to the pages for each month, week and day. In the top-right, there are also links to each of the four quarters. There is also a yearly calendar for the following year (in this case 2024), however, this does not have the tappable elements – it is simply an area for you to keep track of important future dates, ready to transfer to your new planner next year.
The quarterly organiser is divided into three months per page. Each month consists of a monthly calendar, with links to specific day, week and month pages as well as a space to record quarterly goals (or any other information you wish to record on a quarterly basis). At the top is a link to the yearly calendar.
The monthly organiser consists of a monthly calendar view with several holidays already filled in. I was initially a little concerned that the holidays listed on my review copy were US-centric (Memorial Day, Independence Day etc.) but after a little digging, I discovered that you can set country-specific holidays when you place an order.
Each of the dates can be tapped to navigate to the daily organiser. At the top of the screen, there are links to the yearly and quarterly planners, and also a link to the habit tracker section. At the bottom are quick links for navigation to all twelve monthly organisers and on the left, there are links to the weekly organisers for the current month.
The weekly organiser is divided into seven columns (one for each day), with four rows for tasks that have a status of either DONE, DOING, BLOCKED or TODO. Sadly, the headings for each day did not align with the respective column (NOTE: see the update to this in the summary below), which irked me a little, although did not reduce the functionality. At the top of the page are links to the current year, quarter and month pages, as well as a link to a weekly index page that lists all 52 weeks of the year as tappable links.
Finally, each daily organiser consists of a single page with spaces for:
Your todo list
Your notes/journal
Your daily schedule (from 6am to 9pm)
At the top, there are links to the current year, quarter and month and week, as well as a link to the habit tracker. At the bottom of each daily organiser page are links to other sections of the planner, including book, notes, projects, sketches and meeting notes.
The Habit Tracker
The Habit Tracker consists of an index page for each month of the year, with tappable links to a page for each month. Here, you can make notes about your habits each day. Here, you can also tap each day to take you to the respective daily organiser on your schedule.
Books
The Books log has space to record up to 50 books that you have read, along with an option to record your rating of the book (between one and five stars).
Notes
There are 75 lined Notes pages along with index pages with quick links to each notes page.
Projects
Similarly, there are 25 Projects pages (dot layout), with a linked index.
Sketches
And, 25 Sketches (grid layout) pages, with a linked index.
Meeting Notes
Finally, there is an index and pages for up to 50 meetings. Each meeting page is lined and split into sections for Topics, Notes and Action Items.
Customisability
One of the things I really liked about the HyperPaper Planner is how configurable it is.
At checkout, you can select several options to customize the planner to your own specific preferences. This includes:
Device – reMarkable (left and right handed), Supernote, Boox, Kindle Scribe
Language – English, Spanish, French and German
Default page style – dotted/lined
Cover image – 9x choices
Daily organiser – extra note pages, customise agenda hours, lined/dotted
Weekly organiser – lined, dotted, grid or kanban (portrait/landscape)
Monthly organiser – country-specific holidays (or no holidays at all)
Quarterly organiser – lined/dotted
Trackers (e.g. habit tracker) – add multiple trackers with unique page titles, lined/dotted/grid
Review lists (e.g. books) – add multiple review lists with unique page titles and between 25 and 200 pages, lined/dotted/grid
Collections (e.g. notes/projects/meeting notes) – add multiple collections with unique page titles and between 25 and 200 pages, lined/dotted/grid/blank/meeting/kanban
If you have any requirements that are not provided by the options, you can contact Aaron to enquire if he is able to accommodate them.
Verdict
I tested HyperPaper for a week and found it very intuitive to use. There are plenty of tappable links that can be used for quick and easy navigation around the planner, and it is very customizable so the planner will have pages to suit almost every requirement.
For me, there were only two things that I wasn't too keen on.
Firstly, the column headings for the weekly organiser were out of alignment with the columns themselves. However, after raising this with Aaron, he informed me that:
The weekly day links are actually not supposed to line up with the cards in the kanban board below– you're not the first to be under this impression though so I think I need to make things more clear. The links are just there for convenient navigation, and it's just a coincidence due to available space that there are 7 cards per column.
Secondly, I found the weight of the font that was used throughout the planner to be a bit too faint and often struggled to read the text without moving my head closer to the device. Of course, this could simply be an issue with my own eyesight or the lighting at my desk. However, Aaron did inform me that there is an option to choose a higher-contrast planner (which is enabled by default for the Kindle Scribe and Supernote).
I think that HyperPaper is one of the better PDF Planners/Organisers on the market, and at only €19, it is well worth the cost for a year of structured note-taking and organising.
Was I converted into a PDF Planner user?
Honestly, no.
I still prefer the freedom of open-ended notebooks with a blank canvas for each page. But that is just my personal preference and I don't think any dedicated PDF Planner will change my mind.
But for those that like to use a structured template for their note-taking, and do not have time to create their own, the HyperPaper Planner is something well worth checking out.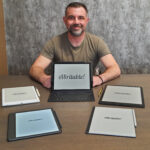 Dan Dutton is passionate about E-ink writing tablets, which bring together the pleasure of writing on paper with the power of digital technology. When he bought his first tablet, he realised that there wasn't a lot of unbiased information available for people that were considering buying an E-ink tablet, and so he built eWritable.