Ratta, the company behind the Supernote e-ink tablet, announced today that all new tablets will be fitted with their newly updated "FeelWrite 2TM" screen protector.
In fact, all Supernote A5 X tablets purchased from around mid-August 2023 will have had the new screen protector installed prior to shipping.
FeelWriteTM is a thin film that sits on top of the surface of the screen that contributes towards Supernote's unique writing feel. When you press down with the pen, it makes a very slight depression in the screen's surface (similar to the indentations made when writing on real paper) and provides some friction to the writing experience. Over a short period of time, these indentations "self-heal", returning the screen's surface to its original texture.
Combined with Supernote's very hard (dense, solid) and fine (thin,needlepoint) ceramic nibs on their range of styluses, it creates the distinctive writing feel that is loved by Supernote users.
What's new with FeelWrite 2TM?
Whilst the original FeelWrite screen protector has been part of the charm of Supernote tablets tablets for several years, FeelWriteTM 2 adds a couple of additional enhancements.
Firstly, the texture has changed from a smooth surface to a rougher, grainier screen surface, which is designed to be comparable to the texture of traditional paper. Ratta have published some graphs on their website that shows how close the writing feel of the new screen protector is to real paper, but (I'll be honest), I don't really understand them and although they quote Wacom as being the source, I was unable to independently verify this.
And, secondly, an anti-glare coating has been applied to make the screen more comfortable to look at when the ambient lighting is bright.
What about existing Supernote owners?
For current Supernote owners (purchased before mid-August 2023) there is currently no way to upgrade to the new FeelWrite 2 screen protector, however, Ratta are looking at the possibilities of providing this as a separate product.
The issue is that installing the screen protector is quite an intricate task that some users may find difficult.
Currently, Ratta are only manufacturing one product (the Supernote A5 X), however, new Supernote devices will be hitting the market over the next few months, beginning with the 7.8″ Supernote A6 X2, which is scheduled for release in November 2023.
My thoughts
I really like the current writing feel on the Supernote – although it is unlike any other e-ink tablet, I find it very pleasurable to write on.
Although I am excited by the prospect of the tactile writing feel being further improved, I'm going to withhold any judgements until I have tried it out first-hand.
I have a lot of respect for Ratta's R&D department who appear to do a lot of research and testing before releasing product improvements, so I am fairly confident that this will be a big hit but writing experience can be rather subjective – I'm hoping that I like the new stylus-on-screen experience.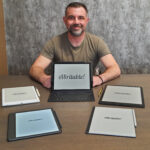 Dan Dutton is passionate about E-ink writing tablets, which bring together the pleasure of writing on paper with the power of digital technology. When he bought his first tablet, he realised that there wasn't a lot of unbiased information available for people that were considering buying an E-ink tablet, and so he built eWritable.