Last updated: September 2023
I have not yet reviewed this tablet, and (if I'm honest) it is unlikely that I will purchase a review unit because it is an older generation model that does not appear to offer anything that would cause me to buy it.
I feel that 10.3″ tablets from other manufacturers, such as the Boox Note Air 2+, Supernote A5X, and reMarkable 2 are better choices.
In addition, there were rumours on Reddit about the Bookeen Notea team winding down operations.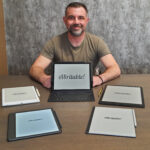 Dan Dutton is passionate about E-ink writing tablets, which bring together the pleasure of writing on paper with the power of digital technology. When he bought his first tablet, he realised that there wasn't a lot of unbiased information available for people that were considering buying an E-ink tablet, and so he built eWritable.