reMarkable, the company behind the reMarkable and reMarkable 2 e-ink writing tablets have today unveiled Type Folio – a keyboard folio for the latter device.
Type Folio product will retail for $199/€199 (with a discount for Connect subscribers) and it means that users will now be able to type notes straight onto their reMarkable 2 tablet.
This release follows in the footsteps of the Boox Tab Ultra, another e-ink tablet with keyboard support that was launched in the last quarter of 2022.
The reMarkable 2 will snap to the Type Folio using magnets – I'm guessing it will utilise the mysterious POGO connectors that previously seemed to have no practical use (pictured below). The screen auto-rotates to landscape when the tablet is connected.
My first impressions are that this looks like a really nice and useful addition to the reMarkable product line but is a bit pricey at $200 for a keyboard and a bit of fake leather – by way of comparison, the Boox Tab Ultra Keyboard/Folio is priced at $109.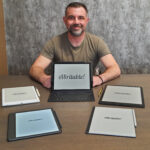 Dan Dutton is passionate about E-ink writing tablets, which bring together the pleasure of writing on paper with the power of digital technology. When he bought his first tablet, he realised that there wasn't a lot of unbiased information available for people that were considering buying an E-ink tablet, and so he built eWritable.