Pros
Large screen size
Enterprise solution
Great collaboration tools (inc. real-time collaboration)
Awesome for presentations
Stylus has highlight and erase buttons
Infinite zoom capability
Cons
Has been discontinued
No support
Company has disappeared
Very limited applications
Stylus requires battery/charging
Note-taking and e-reading limited
Slower stylus latency and processing
No pressure sensitivity
UPDATE: Quirklogic have closed down their Inkworks whiteboarding and collaboration system - this was perhaps the best thing about the Papyr. Their website has gone offline an I get no response from their support email. Therefore this device has now lost its best features and its rating has been adjusted accordingly.

If you're looking for an A4-sized device, check out the Boox Tab X, the Boox Max Lumi 2 or the Fujitsu Quaderno A4
Last updated: September 2023
IMPORTANT NOTE: The Quirklogic Papyr is an e-ink tablet that was built around the ideas of collaboration and presentation. It achieved this through its unique cloud-based technology. In 2023, Quirklogic went out of business and shut down the cloud servers that gave the Papyr its market edge. Although it can still be used for reading and annotating PDFs, the distinct appeal of this tablet was lost with the demise of the company behind it and I can no longer recommend it.

This review is pretty much obsolete and only remains published here for purposes of posterity.

Alternative 13.3″ e-ink tablets to consider include the Boox Tab X, Boox Max Lumi2, and Fujitsu Quaderno A4.
The Quirklogic Papyr is different to most E-ink writing tablets because it has been developed primarily for its real-time collaboration and enterprise-level features. It is a device that meets a very particular niche need really well but does not have the versatility to be used for other applications.
In this review I will explore the pros and cons of the Quirklogic Papyr.
Hardware
Compared to other devices on the market, the Papyr uses quite dated hardware, based on technology from Sony.
It has 1.2Ghz quad-core processor, 1Gb of RAM and 16Gb of internal storage. It uses a 13.3″ (A4-sized) Carta E-ink screen with a resolution of 1650×2200 and 207dpi.
This is one of the few E-ink tablets that have a larger 13.3″ screen and that is what makes the cost of this device rather high; however, it is the least expensive of the A4-sized tablets.
The display looks pretty sharp, however, there it is a bit sluggish when opening larger documents or doing similar heavy-duty processing.
Local storage capacity is average for this type of device, and should be plenty for the average user, particularly as Quirklogic also provide a free cloud storage option (Inkworks).
There is no internal light source, so it cannot be used in dimly-lit or dark environments. It has Wi-fi connectivity but no Bluetooth.
Software
The core functionality of the Papyr is based around Workbooks. These are multipage canvases that can be used for drawing and writing.
The feel when writing is quite scratchy, which can either be a pro or con depending on your own personal preferences. There is only one brush that can be selected, however the size (line thickness) and colour can be adjusted. Compared to the writing experience on other tablets, the latency is slower, however, not so much that it makes it unbearable to use.
The software supports shape-drawing, however, the toolset is limited compared to other tablets on the market. For example, there is no handwriting recognition.
One of the most interesting features of Workbooks is what they call 'infinite zoom'. This means that you can pinch the screen to zoom in and out and essentially have limitless capability to increase your canvas size. So, for example, if you fill the canvas and need more space, instead of creating a new page like you would with other E-ink tablets, you can zoom out a bit and have more canvas to work with.
The only files that are currently supported are PDF, PNG and JPG. In addition, when files are imported into the Papyr, they are converted to Quirklogic's proprietary format (QLW). Images are essentially saved as a background layer for a page in a Workbook – this means that you can only import into a new page, rather than an existing one. There is also a 25Mb limit on PDF imports.
Similarly, files can only be exported in the aforementioned formats, although there is also an option to email the workbook in PDF format to your own email address.
As well as being able to connect to files on Quirklogic's Inkworks cloud (see below), the Papyr also supports connection to Google Drive and Dropbox.
The Workbook navigation system is built on top of an older version of Android (Android 8, I think) and other apps that can be used include the Chrome browser and a reader. Unlike Boox devices, you cannot connect to the Google Play Store and install other apps – you are restricted to the apps that Quirklogic makes available.
The Quirklogic Papyr does have a split-screen mode, which you can use to collaborate or present on one side of the screen, whilst reading and writing notes on the other.
Features
The unique selling point of the Quirklogic over other E-tablets is that it has been developed for the specific purpose of providing a collaboration tool for enterprises.
Key to this idea is the Inkworks ecosystem, which is Quirklogic's server-side solution.
Signing up to Inkworks is currently free and it allows various devices to connect and collaborate on a Workbook in real-time. For example, you can have a team member share the Workbook on their Papyr with other team members that are accessing it from their laptop, smartphone or other Quirklogic devices. All parties can edit and update the Workbook and changes are shown almost instantaneously across all devices.
For the more security-conscious organisation, I have heard others say that there are options for an Inkworks server to be installed on a local server, which means documents never leave the internal netw. However, I have not yet been able to confirm this.
Design
The Papyr tablet is only about 6mm thick, making it one of the thinnest tablets on the market. It weighs around 350g, which, for an A4-sized tablet is very light – in fact, it is lighter than many smaller A5-sized tablets. It does feel a bit flimsy, however it is very robust.
It has a single physical Home button above the screen – this is better placed than some devices that have the button at the bottom because there is no danger of accidentally pressing it with your palm when writing.
The screen itself has a matte finish, which is why there is a scrawling sound when writing and drawing; however, this also means that it is very resistant to glare from external lighting and can be used in well-illuminated environments.
Stylus
In contrast to most E-ink writing tablets, the Papyr's stylus is not a Wacom, which means you are pretty much restricted to using the marker that is shipped with the unit. It also means that it is battery-powered, so you will have to recharge it using the USB slot from time to time. In addition, the technology used is not pressure sensitive, so it is not really a device that can be used for artwork.
The stylus does have buttons on it for erasing and highlighting, which is quicker than selecting the respective tools from the toolbars.
The nibs do wear down over time and require replacing, but the tablet currently ships with three replacement tips.
Verdict
The Quirklogic Papyr is unlike other E-ink tablets because it is not really designed to be an e-reader or note-taking device. It can perform these functions to an extent, but there are far better options on the market. And it is not much use at all for drawing or sketching.
When compared to the tablets from other manufacturers, it is sorely lacking. There is no option to expand functionality by installing additional apps. There is no choice of brush type, no handwriting recognition, and the filetypes that can be imported are very limited.
The thing it does do well is real-time collaboration and, in my view, this should be the only reason that would consider purchasing this device. The infinite zoom feature is very nice but does not make up for the lack of other features.
I can think of several use cases where the Papyr would be a fantastic solution; for example, a teacher or coach sharing information with their students or a team of designers working together on a project. Basically, a situation that might have used a whiteboard, chalkboard or flipchart in the past.
If your primary requirement is to have a collaborative interactive whiteboard for you and your team, this is the device for you. If this is not why you are investigating E-ink tablets, then look elsewhere.
Other Reviews
Before making a purchasing decision, it is always a good idea to get the perspectives of a few different people.
Kit Betts-Masters has reviewed several E-ink tablets on his excellent YouTube channel – here is his expert opinion of the QuirkLogic Papyr: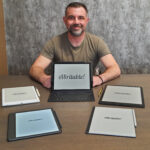 Dan Dutton is passionate about E-ink writing tablets, which bring together the pleasure of writing on paper with the power of digital technology. When he bought his first tablet, he realised that there wasn't a lot of unbiased information available for people that were considering buying an E-ink tablet, and so he built eWritable.