This is an objective information page for the Quirklogic Papyr e-ink tablet, with details of hardware and software specs, features, and capabilities.

My subjective review can be found here.

NOTE: Quirklogic Papyr appeared to go out of business in 2023, and with it went all of the cloud-based services that made the Papyr useful. Hence this tablet is no longer recommended. For an alternative 13.3″ e-ink tablet, check out the Boox Tab X, Boox Max Lumi2, and Fujitsu Quaderno A4.
DATASHEET
PRODUCT
QUIRKLOGIC PAPYR
Specs & ratings info

👎 Not Recommended

My Rating
Price (approx)
$600


Limited availability

Manufacturer
QuirkLogic
Release year
2021
SCREEN
QUIRKLOGIC PAPYR
Screen type
unknown
Screen size
13.3"
Screen resolution (B/W)
1650 × 2200
Screen density (B/W)
207dpi
Colour

⨯

Screen resolution (Colour)
n/a
Screen density (Colour)
n/a
Frontlight

⨯

Wacom compatible

⨯

Buy
HARDWARE
QUIRKLOGIC PAPYR
CPU
1.2Ghz quad-core
RAM
2Gb
Storage
16Gb
Battery
2000mAh
Super Refresh

⨯

Keyboard folio

⨯

Speakers

⨯

Microphone

⨯

G-Sensor

⨯

Ceramic Tip

⨯

Bluetooth
Fingerprint scanner

⨯

SD card slot

⨯

Rear camera

⨯

Front camera

⨯

Waterproof

⨯

USB-C

⨯

Width
225mm
Height
305mm
Thickness
6.35mm
Weight
349g
Buy
SOFTWARE
QUIRKLOGIC PAPYR
Operating system
Android 5.0
Google Play Store

⨯

Kindle support

⨯

Handwriting search

⨯

Handwriting conversion

⨯

Insert shapes
Insert images
Split screen

⨯

Custom templates
No. templates
3+
Brush types
Pen
Screen share
ADE support

⨯

File formats
PDF, EPUB, MOBI
File formats (image)
PNG, JPG
File formats (Audio)
-
Buy
BUY
QUIRKLOGIC PAPYR
Where to buy
eBay AU
eBay CA
eBay DE
eBay ES
eBay FR
eBay IE
eBay IT
eBay UK
eBay US

PRODUCT
QUIRKLOGIC PAPYR
BEST FOR…?
Anyone who wants to use E-ink technology for presentations, collaboration, or as an interactive whiteboard.
HARDWARE
1.2GHz quad-core CPU and 1GB RAM
13.3″ (A4-sized) screen with resolution of 1650×2200 (207dpi)
16 GB of local storage space (11GB usable)
Wifi connectivity
2000mAh Internal battery
STYLUS
Included with the tablet is the Papyr Pen
The Papyr Pen has two buttons on the shaft for erasing and highlighting
The Papyr Pen is not pressure or tilt sensitive
The Papyr Pen magnetically snaps to the tablet
The Papyr Pen requires tips to be changed periodically as they wear down
The Papyr Pen uses a battery that needs to be charged periodically (via a USB port at the top of the shaft)
The Papyr is not compatible with other Wacom styluses
OPERATING SYSTEM
Android 5.0
Ecosystem is based around workbooks and collaboration
Workbooks can be shared with others as an interactive whiteboard and all team members can collaborate on the workbook in real time using Quirklogic's Inkworks technology
Other team members do not have to own a Papyr tablet – collaboration can be facilitated through a browser-based app
From the Home screen, you can open new workbooks and access local and cloud-based workbooks.
Native apps that are built into the O/S are:

Workbooks – Digital notetaking and collaboration app
Papyr Book Reader – Reading and annotation app

The only installed third-party app is Google Chrome, for web browsing
No access to Google Play Store, so additional apps cannot be installed (although it can be 'hacked' to provide some functionality in this regard)
FILE TRANSFERS
Files can be imported/exported between the Papy and desktop and mobile devices using Quirklogic's portal
Files can also be imported/exported via Google Drive and Dropbox
Workbooks are exported in either PDF, PNG or JPG format. They can also be sent to your email address.
Files are converted to Quirklogic's QLW format whilst being used on the Papyr
READING & ANNOTATING
Papyr Book Reader is the native reading app
Papyr Book Reader can be used to open PDF, EPUB and MOBI files
Papyr does not have native support for DRM-protected files
To annotate a PDF, it must be imported as a QLW file (Quirklogic's proprietary workbook format) – it can then be exported as a PDF again.
EPUB and MOBI files cannot be annotated
The Papyr supports split-screen view so, for example, you can open two workbooks side-by-side
DIGITAL NOTE-TAKING
Workbooks is the native note-taking app
Notes are organised using multi-page workbooks. Workbooks can be organised with folders.
There is only one type of brush; however, the thickness and colour can be changed (note that although you can select red, green and blue colours, they will appear as grey on the Papyr's monochrome screen)
Various shape-drawing tools are included.
Multiple layers are supported. Templates are effectively the bottom layer.
When inserting an image, it creates a new page in the workbook with the image as a template (bottom layer)
Workbooks have 'infinite zoom' which means the canvas can be expanded dynamically – for larger workbooks, bookmarks can be placed around the canvas
The Papyr does not support handwriting recognition
CUSTOMER SERVICE
NOTE: Quirklogic seem to have gone out of business, hence customer service no longer exists
The Papyr is supplied with a 1-year warranty that covers any hardware defects (not caused by the customer)
Quirklogic releases fairly regular updates for their software
Support is provided via email
There is a 15-day return policy, however, shipping and a 20% restocking fee will be applied
BUYING OPTIONS
The Papyr can only be purchased new from Quirklogic
The official Quirklogic website is QUIRKLOGIC.COM
QUIRKLOGIC PAPYR BLOG POSTS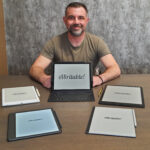 Dan Dutton is passionate about E-ink writing tablets, which bring together the pleasure of writing on paper with the power of digital technology. When he bought his first tablet, he realised that there wasn't a lot of unbiased information available for people that were considering buying an E-ink tablet, and so he built eWritable.