Today, Onyx International released the Boox Tab Ultra C Pro e-ink tablet, the successor to the now discontinued Tab Ultra C.
I've already written about the differences between these two products here, however, in a nutshell, the Pro version of the TUC has a faster CPU and more memory, runs Android 12 and has the latest Boox firmware installed.
Although the TUCP is available to buy right now, it seems as though the keyboard case (with touchpad) is not yet available either on Amazon or Boox's official store. The regular magnetic case (without the integrated keyboard) is available, however.
Boox themselves do not know when this will be in stock either, but hopefully it will be very soon.
For me, the keyboard cover is one of the main benefits of the TUCP over other tablets, such as the Note Air3 C, so I personally won't be buying it until the folio becomes available.
It's also worth mentioning that the keyboard cover for the TUC will not work with TUCP because the POGO pins have moved (however, a third-party Bluetooth keyboard should work fine).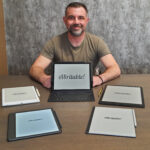 Dan Dutton is passionate about E-ink writing tablets, which bring together the pleasure of writing on paper with the power of digital technology. When he bought his first tablet, he realised that there wasn't a lot of unbiased information available for people that were considering buying an E-ink tablet, and so he built eWritable.