Last updated: September 2023
I recently received the following email from an eWritable user:
Hello Dan

I appreciate all the research you have done on E ink notebooks. Can you tell me if any of them have a searchable note feature. That is the most important thing to me. The ability to search a keyword to find my notes on that subject without having to read through all my notes.

Thank you
Billie
Although several e-ink tablets boast handwriting recognition, this is often only utilised as handwriting-to-text conversion.
The reMarkable 2, for example, does have a search function, however, it will only search text (such as that inserted with the text tool or keyboard folio). Any handwriting will be ignored. Of course, you can convert handwriting to text and then perform a search, but this isn't really the same thing and would quickly become very tedious.
On the Kindle Scribe, there is no notebook search functionality at all (although Amazon has recently introduced handwriting-to-text conversion).
In fact, out of all the e-ink tablets I own, only three manufacturers provide the functionality to search handwriting within notebooks for specified words; Supernote, Boox, and Kobo.
For each of these devices, I created a simple 4-page notebook with a single sentence on each page that contained the word 'test'. Then I carried out a handwriting search for the word 'test'.
Boox Handwriting Search
Boox devices include the Tab Ultra, Tab Ultra C, Tab X, Note Air2 Plus, Nova Air2 and several other e-ink tablets. They all run virtually the same software (the Tab range has a slightly different user interface) so should all be able to carry out a handwriting search.
I tested the handwriting search on my Tab Ultra and older Boox Max Lumi2.
The Tab Ultra found all occurrences of the handwriting in 5.3 seconds. The Max Lumi2 did it in a slightly longer 5.9 seconds – this is perhaps due to the slightly lower hardware specs of the Max Lumi2.
Supernote Handwriting Search
The current Supernote series consists of the Supernote A5X and the Supernote A6X, which both run (almost) the same software.
On my Supernote A5X, all occurrences of the handwriting were found in a very impressive 1.6 seconds.
This seems to be because Supernote's real-time recognition notebook scans for handwriting in the background whilst you are writing and somehow caches it so that handwriting recognition is super speedy.
Note that handwriting search is not possible in Supernote's standard notebook – when you create a notebook, you have a choice out of standard notebook which supports layers and real-time recognition notebook which supports handwriting recognition.
However, there is one caveat – the caching is not immediate, which means if you perform a handwriting search immediately after you've finished writing on a page, it will return zero results. To get around this, you simply have to be inactive within a note for a few minutes for the background processes to catch up (after 30 seconds of inactivity, realtime recognition initiates).
With Supernote's August 2023 software release, you can now search handwriting across all your real-time recognition notebooks at once.
Kobo Handwriting Search
On the first try, the Kobo Elipsa 2E only found three out of the four instances of the word test. This may have been because of my messy handwriting (I admit it's not the neatest!) and after a rewrite, it was able to find all four instances in a time of 3.9 seconds.
Like the Supernote, Kobo has two types of notebook – basic and advanced. Handwriting search is only possible in with the basic notebook.
A Further Handwriting Recognition Test
In response to a comment below, I did a test of handwriting recognition on a Boox Note Air 3C and Supernote A5X to see if there were any differences in accuracy. Apologies for only using these two devices, but these were all I had with me at the time – I'll add others at a later date.
To do this, I wrote a single page of handwriting and then converted it to text.
Although I wrote out the same prose on both tablets, there are bound to be small nuances between the handwriting. Basically, they're very similar but not completely identical.
Here's the Supernote original and handwriting-to-text-conversion:
As you can see, it is very nearly 100% accurate (it thought the word 'maxin' was 'makin' but that's perfectly acceptable to me).
And on the Boox…
Boox got the word 'maxin' correct but used the word 'rake' instead of 'take' and 'out' instead of 'our'. Admittedly this could be because of the way that I form my r's, but, like the Supernote, there's a lot of accuracy there and I can't really have any complaints (particularly as my scrawl is not the neatest!)
The only real differences were that Supernote was a fair bit faster but you have more options with regards to what you do with the converted text on Boox.
Verdict
Supernote, Boox, and Kobo tablets all have handwriting search features.
Supernote, Boox, and Kobo all had 100% accuracy in the original small test (although Kobo didn't pick up one of the words at first but as stated already this could have been due to my messy handwriting). However, in my experience, 100% accuracy is not typical with any of these devices when searching through a large number of pages – I'd usually expect it to make the odd mistake now and again (so perhaps 95% accuracy would be a better estimate).
In terms of speed, the Supernote is the hands-down winner. It takes a few minutes to index each page in the background, but after this is finished, the handwriting search is lightning quick.
Kobo is second in terms of speed.
Boox's implementation of handwriting search is somewhat slower, and the search duration increases with each additional page that it has to scan. However, once it has performed a search, it does cache the results, which means subsequent searches are somewhat quicker (but still not as quick as Supernote).
Both Supernote and Boox allow you to search the handwriting of several notebooks at once, a feature which is not available on Kobo.
If handwriting search is an essential feature that you need from an e-ink tablet, my current recommendation would be a Supernote.
If handwriting search is something that you would like, but would use infrequently, a Boox tablet should also be a consideration. A Kobo Elipsa 2E is also an option, however personally, I would always pick a Supernote/Boox over a Kobo.
I don't own every single e-ink tablet (yet!) so cannot advise on the performance of handwriting search on other devices, however, I have researched which e-ink tablets have this functionality, and they can be seen on my e-ink tablet feature comparison matrix.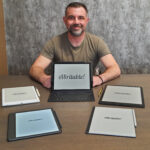 Dan Dutton is passionate about E-ink writing tablets, which bring together the pleasure of writing on paper with the power of digital technology. When he bought his first tablet, he realised that there wasn't a lot of unbiased information available for people that were considering buying an E-ink tablet, and so he built eWritable.