Last updated: September 2023
Kindle and Kobo are, without a doubt, the two most popular manufacturers of e-readers. Both brands have released e-ink tablets that add writing capabilities to their well-established reading technologies.
The Kindle Scribe and Kobo Elipsa 2E are both 10″ (approx) e-ink writing tablets, but which one is best?
In this article, I will be taking an in-depth look at each of the devices and rating them in a number of different criteria to help buyers decide which one is right for them.
Design & Build
The physical dimensions of the Scribe and Elipsa 2E are almost identical, with the Scribe being slightly taller and wider but only by a couple of millimetres.
Whilst the thickness of the Scribe is symmetrical, the Elipsa is wedge-shaped. The wedge is thickest at the side with the wider screen bezel and tapers horizontally. On the thicker side, the Elipsa has slightly more depth than the Scribe but on the thinner side, there is slightly less depth. However, there are rubber feet on the thinner side of the Elipsa, which keeps the screen parallel to the surface it is laid on.
The asymmetrical design of the Elipsa also means that the weight of the tablet is unevenly balanced, and concentrated on the side that is meant to be held, which (in my opinion) makes the Elipsa more comfortable to hold.
Other design elements of the Elipsa that make it more ergonomic to hold include the textured rear panel and the fact that it is over 40g lighter. This is because the chassis of the Elipsa is made from recycled plastic, whilst the Scribe is made from aluminium.
Although the Scribe's metal shell is heavier and less comfortable to hold, it also feels much more solid and robust, as well as having a more premium and luxurious feel to it. In comparison, the Elipsa does feel a little cheap and flimsy.
In fact, the durability of the Elipsa has been called into question with my own experiences. The screen of my Elipsa 2E broke within 30 days of buying it and the replacement that Kobo sent out had a faulty battery that would not charge. The second replacement did work but I'm much too scared of it breaking again, so it sits in the original box most of the time, only being let out when being used for testing or reviews such as this one.
Both the Elipsa and Scribe house the power button and USB-C connector on the left edge (or the side with the wider bezel). However, the Scribe's power button is more centrally aligned in the area where you would typically hold the tablet, which resulted in several occasions where I would accidentally press it with my palm and knock it into sleep mode. In contrast, the Elipsa's power button is located slightly higher up the edge and less likely to be inadvertently activated.
The styluses for the Elipsa and Scribe can be magnetically snapped to the edge of the tablet. On the Elipsa, it attaches to the top edge of the tablet and on the Scribe, it attaches to the right edge.
Overall, the Kobo Elipsa 2E is better ergonomically designed and more comfortable to hold, but the Kindle Scribe is more robust and aesthetically pleasing. The Elipsa might have won in this category, however, my experiences with how prone it is to damage caused it to lose a lot of percentage points.
Design & Build

AMAZON KINDLE SCRIBE

KOBO ELIPSA 2E
Hardware Specs & Features
Under the hood, the Kobo Elipsa 2E has a respectable 2GHz processor, 1Gb RAM and 32Gb of storage space.
The exact specifications of the Kindle Scribe are not publicly known but it is fair to say that it has at least a 1GHz processor and at least 1Gb RAM. There are no perceivable performance differences between the two tablets.
There are three storage options for the Scribe (16Gb, 32Gb, and 64Gb) and the one that is closest to the Elipsa's price point of around $400 is the 16Gb Scribe with the Basic Pen/Stylus.
Kindle also offer a Premium Pen with an eraser on the top and a side button but this costs about $30 more. The Kobo stylus comes with the eraser and side button as standard.
Keeping with the topic of the styluses, the Scribe uses Wacom EMR technology, which is the gold standard for e-ink writing tablets. It is compatible with other Wacom styluses and the Scribe's stylus will work on other Wacom tablets. Wacom styluses never need to be charged, although the tips wear down and need to be changed perhaps a couple of times a year.
The Kobo stylus uses its own proprietary writing tech and so you have no choice about which stylus you use – it has to be the Kobo. The Kobo stylus has a USBC-C connector because it has to be recharged from time-to-time (which is frustrating if it runs out of battery mid-sentence). The tip of the Kobo stylus is noticeably thicker than other stylus, which makes the writing experience feel less accurate, but I will cover this in more detail in the note-taking section.
Although both Kobo and Kindle use e-ink screens, the Scribe's screen has a higher resolution and screen density than the Elipsa 2E. This makes the Scribe's 300dpi screen much sharper and crisper than the Elipsa's 227dpi. The Elipsa's screen is slightly larger at 10.3″ compared to the Scribe's 10.2″
Both the Scribe and the Elipsa have a frontlight, with settings to adjust the warmth (red hue) of the light. They also both have a g-sensor, so the screen auto-orientates between landscape and portrait. They also both have Bluetooth (for headphones/speakers) and Wifi connectivity.
The Scribe has a bigger battery (3000mAh) compared to the Elipsa's 2400mAh. I haven't performed any robust tests but as they are performing similar tasks, I would guess that the Scribe would outperform the Kobo in terms of battery life.
Overall, both the Scribe and Elipsa have fairly decent hardware specs but the Scribe's 300dpi screen, better stylus and bigger battery mean that it just wins in this category.
Hardware

AMAZON KINDLE SCRIBE

KOBO ELIPSA 2E
Organisation
This section relates to the organisational features of the Kindle and Kobo ecosystems. This includes the organisation of documents and notebooks within each proprietary file system, organisational features within notebooks themselves and the ease of transferring files to and from the tablet.
Both the Elipsa and the Scribe support organising notebooks into hierarchical folders/sub-folders. On the Scribe, notebooks can be located (by filename) using the universal search function, but notebooks are not included with the Elipsa's universal search feature. Neither the Scribe nor the Elipsa support tagging or favouriting notebooks which are standard on most other e-ink tablets.
Within notebooks, the Elipsa supports handwriting search, so it is possible to search for words that you have written. The Scribe does not have this function. However, the Scribe does have a Page Overview option which allows you to see up to nine pages of your notebook at once, navigate around the notebook, and add, insert, move, and delete pages. In contrast, the Elipsa just has 'progress bar' at the bottom of the screen for navigating around a notebook and no options to insert or move pages around.
The Scribe can export notebooks as PDF files via email. The Elipsa has more exportation options – file formats can be PDF, zipped PNG or zipped JPG, and they can be sent to either a computer (via USB), Dropbox or Google Drive. Advanced notebooks on the Elipsa (which I'll talk more about in the Note-taking section) can be exported as DOCX, TEXT, or HTML.
You can also view (but not download) your Scribe notebooks from the Kindle app. The Kobo app doesn't allow you to view the notebooks on your Elipsa but they can be viewed from the My Kobo section of Kobo's website. Again, they cannot be downloaded from here.
Files can be transferred to the Scribe using email or the SendtoKindle browser app. There is also a SendtoKindle Chrome extension, which can be used to send webpages to the Scribe (in PDF format) to read later. Additionally, you can also send files to the Scribe via USB-C, however, this bypasses Amazon's file processing, which means that some features may not work – for example, you cannot annotate a PDF transferred to the Scribe via USB. And any books you have purchased from the Kindle Store will automatically show up on your Scribe.
You can add unprotected EPUBs and PDFs to the Elipsa via Dropbox and Google Drive. You can also transfer files via USB. DRM-protected EPUBs and PDFs have to be transferred from your computer via USB using Adobe Digital Editions (ADE).
Compared to other e-ink tablets, both the Kindle's and Kobo's organisational features are quite basic and a bit clunky. Compared to one another, the Kindle is slightly better at some things (e.g. moving/inserting pages in notebooks) and the Kobo is slightly better at others (e.g. handwriting search in notebooks). For this reason, they are about equal in this category.
Organisation

AMAZON KINDLE SCRIBE

KOBO ELIPSA 2E
Note-taking
Before exploring the native note-taking apps of the Scribe and Elipsa, I want to address the difference in the tactile writing experience between the two tablets.
As mentioned earlier, the Kobo stylus has a slightly wider diameter nib, which means that it feels a little less accurate when writing. The Kobo stylus nib is also made of hard plastic, rather than the softer plastic used on the nib of the Scribe. In addition, whenever you take the Kobo stylus off the screen for a moment, there is a flash as the screen refreshes and the marks you have made alter slightly for anti-aliasing. Also on the Kobo, there is a slight latency between moving the stylus across the screen and the mark appearing. Both the Elipsa and the Scribe have some degree of pressure sensitivity but the Scribe's implementation feels much better (and the Scribe also supports tilt sensitivity, which the Elipsa does not).
All of these things together make the writing experience of the Scribe far superior to that of the Elipsa. Writing in the Scribe just feels a lot more natural and pleasurable
Although Amazon has released several software updates since the Scribe was launched, its native note-taking app is still quite basic. There's a nice selection of brushes (pen, fountain pen, marker, pencil and highlighter). It also has an eraser tool and undo/redo buttons, as well as a lasso selection tool that can be used to move, resize, copy and paste handwriting. It has also recently added the option to convert your handwriting to text before exporting it via email. There are also around 20 templates to choose from (lined, squared, todo list etc.) however the template you choose is used on every page of the notebook – most other e-ink tablets let you set a different template per page.
On the Elipsa you have the choice of two types of notebooks; Basic and Advanced.
Basic notebooks are most closely aligned to notebooks on the Scribe. There's a selection of templates (which can be changed for each page rather the universally across the notebook as on the Scribe), five brushes, erase, undo, redo, and lasso select. The Elipsa's selection tool can only be used to move, resize or copy the handwriting or convert it into text. You can also search handwriting in your notebooks.
The Elipsa's Advanced notebooks offer something that is very smart. You can write something and double-tap it to immediately convert it to text. You can also draw shapes and lines and double-tap them to straighten up the lines, which is great for making diagrams. You can also write mathematical equations and with a double-tap, they will be formatted correctly and even be solved. These awesome features are unique to Kobo devices – I don't know of any other e-ink tablet that can do this.
Overall, the Elipsa has the better native note-taking software but the Scribe has a far better writing feel.
Note-taking

AMAZON KINDLE SCRIBE

KOBO ELIPSA 2E
Reading
Both Kindle and Kobo's are renowned for making e-readers and have a lot of experience in this area. So, you are pretty much guaranteed a solid reading experience from both the Elipsa and the Scribe.
The Elipsa 2E supports more file formats, including EPUB, EPUB3, FlePub, PDF, MOBI, JPEG, GIF, PNG, BMP, TIFF, TXT, HTML, RTF, CBZ, CBR and DRM-protected EPUBs and PDFS (using Adobe Digital Editions). This also means that you have more choice about where you buy DRM-protected ebooks (you don't have to use just the Kobo Store).
In contrast, Kindle devices only allow you to view DRM-protected ebooks that have been bought from the Kindle Store. Other files supported on the Scribe include PDF, EPUB via conversion), DOC, DOCX, RTF, TXT, HTML, JPEG, GIF, and PNG.
On both the Scribe and the Elipsa, you can scribble on PDFs but you can only scribble on EPUBs on the Elipsa. Rather than scribbling directly on Kindle Books, the Scribe allows you to add handwritten sticky notes instead. Both tablets support text highlights with text notes, dictionary support, text search, and bookmarks, along with all the usual options for changing the font and layout.
The Scribe has a few additional useful features that the Elipsa does not, such as X-Ray, translation, and quote-sharing. And the Scribe's 300dpi screen simply looks great.
Overall, both the Scribe and the Elipsa are great reading devices, having been developed by the two biggest e-reader manufacturers in the world. The Elipsa is slightly more open and supports more file formats, whilst the Scribe has a better screen and a few additional reading options. Both are fantastic in this category.
Reading

AMAZON KINDLE SCRIBE

KOBO ELIPSA 2E
Versatility
This section will be quite short, because, compared to other e-ink tablets that can be used for things like email, scheduling, and other productivity tasks, the Elipsa 2E and the Scribe are not really all that versatile.
They are both primarily e-readers with additional note-taking functionality. They both have web browsers, with the Elipsa's Browser being slightly better than the Scribe's crock-of-shit, but neither of them is particularly good.
The Scribe has integration with GoodReads and Audible and the Elipsa has integration with Overdrive (for lending libraries) and Pocket (for saved web articles). The Elipsa also has some integration with the Dropbox and Google Drive clouds and has some games included in the Beta Features.
But other than that, there's not a lot more they can be used for.
Overall, the Scribe and Elipsa cannot be used for much more than reading and note-taking.
Versatility

AMAZON KINDLE SCRIBE

KOBO ELIPSA 2E
Customer Service
For full transparency, I've had more exposure to Rakuten Kobo's customer team than Amazon. And my experience with Kobo was not great.
Although they did finally replace my broken Elipsa 2E (twice), I found the email communications to be quite difficult, repetitive and long-winded.
I haven't had to deal with a faulty Kindle device but I do use Amazon quite a lot and there is never usually an issue when I want to make a return within the 30-day returns period.
Both companies release regular software updates, but Amazon has released a lot more updates for Kindle than Kobo has for their devices.
So, to summarise, and based on my own experiences, Amazon customer support is good and Kobo is not so great.
Customer Service

AMAZON KINDLE SCRIBE

KOBO ELIPSA 2E
Verdict
Both the Kindle Scribe and the Kobo Elipsa 2E share a similar heritage in that they are basically e-readers with note-taking capabilities bolted on.
As I've said previously, the durability of the Kobo Elipsa 2E is of such concern to me that I keep it boxed up and hardly ever use it, whereas I use the Kindle Scribe at least once a week for reading Kindle books and taking notes along the way.
I don't really use the native note-taking functionality of the Scribe very much – for my day-to-day note-taking and journaling, I use either a Boox device (such as the Tab X) or the Supernote A5X because they provide a far better note-taking experience.
The Kobo Elipsa 2E is a decent e-reader and the Advanced notebooks are pretty cool but, out of the two e-ink tablets, I would choose the Kindle Scribe every time.
Overall Rating

AMAZON KINDLE SCRIBE

KOBO ELIPSA 2E
Side-by-side spec comparison
To compare more e-ink writing tablets, check out my comparison table.
PRODUCT
KINDLE SCRIBE
KOBO ELIPSA 2E
Specs & ratings info

👍 Recommended

Okay

My Rating
Price (approx)
$340

$400

Manufacturer
Amazon
Kobo
Release year
2022
2023
SCREEN
KINDLE SCRIBE
KOBO ELIPSA 2E
Screen type
Carta 1200
Carta 1200
Screen size
10.2"
10.3"
Screen resolution (B/W)
1830 x 2460 (approx)
1404 x 1872
Screen density (B/W)
300dpi
227dpi
Colour

⨯

⨯

Screen resolution (Colour)
n/a
n/a
Screen density (Colour)
n/a
n/a
Frontlight
Wacom compatible

⨯

Buy
HARDWARE
KINDLE SCRIBE
KOBO ELIPSA 2E
CPU
1Ghz
2 GHz
RAM
1Gb
1Gb
Storage
16-64Gb
32Gb
Battery
3000mAh
2400mAh
Super Refresh

⨯

⨯

Keyboard folio

⨯

⨯

Speakers

⨯

⨯

Microphone

⨯

⨯

G-Sensor
Ceramic Tip

⨯

⨯

Bluetooth
Fingerprint scanner

⨯

⨯

SD card slot

⨯

⨯

Rear camera

⨯

⨯

Front camera

⨯

⨯

Waterproof

⨯

⨯

USB-C
Width
196mm
193mm
Height
229mm
227mm
Thickness
5.8mm
7.5mm
Weight
433g
390g
Buy
SOFTWARE
KINDLE SCRIBE
KOBO ELIPSA 2E
Operating system
KindleOS
KoboOS
Google Play Store

⨯

⨯

Kindle support

⨯

Handwriting search

⨯

Handwriting conversion
Insert shapes

⨯

Insert images

⨯

⨯

Split screen

⨯

⨯

Custom templates

⨯

⨯

No. templates
15+
35+
Brush types
Pen, Fountain Pen, Marker, Pencil, Highlighter
Ballpoint Pen, Fountain Pen, Calligraphy Pen, Brush, Highlighter
Screen share

⨯

⨯

ADE support

⨯

File formats
PDF, EPUB (via conversion), DOC, DOCX, TXT, RTF, HTML, KFX (Kindle), AZW3, MOBI (Limited support), AZW (Limited support)
PDF, EPUB, EPUB3, TXT, HTML, FlePub, CBZ, CBR, MOBI
File formats (image)
PNG, JPG, BMP, GIF
PNG, JPG, GIF, BMP, TIFF
File formats (Audio)
AAX (Audible) via Bluetooth
Kobo Audiobooks (via Bluetooth)
Buy
BUY
KINDLE SCRIBE
KOBO ELIPSA 2E
Where to buy
Amazon AU
Amazon CA
Amazon DE
Amazon ES
Amazon FR
Amazon IT
Amazon UK
Amazon US
eBay AU
eBay CA
eBay DE
eBay ES
eBay FR
eBay IE
eBay IT
eBay UK
eBay US

Rakuten
Amazon AU
Amazon BE
Amazon CA
Amazon DE
Amazon ES
Amazon FR
Amazon IT
Amazon NL
Amazon PL
Amazon UK
Amazon US
eBay AU
eBay CA
eBay DE
eBay ES
eBay FR
eBay IE
eBay IT
eBay UK
eBay US

PRODUCT
KINDLE SCRIBE
KOBO ELIPSA 2E
More Kobo Blog Posts
More Amazon Blog Posts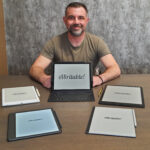 Dan Dutton is passionate about E-ink writing tablets, which bring together the pleasure of writing on paper with the power of digital technology. When he bought his first tablet, he realised that there wasn't a lot of unbiased information available for people that were considering buying an E-ink tablet, and so he built eWritable.