Last updated: September 2023
The Amazon Kindle Scribe and the reMarkable 2 are two of the most popular e-ink tablets on the market (and are both in my Top 5 recommendations).
But which one is best?
In this article, I will be taking an in-depth look at each of the devices and rating them in a number of different criteria to help you to decide which one is right for you.
Please note: When I use the name reMarkable, I am referring to the reMarkable 2 tablet, not the original reMarkable/reMarkable 1.
Design & build
Both the reMarkable 2 and the Kindle Scribe are solidly built and look sleek and stylish. They both have a metal casing with rubber feet at the bottom, (however, the reMarkable does have a plastic rear panel.) Both have a glass Carta screen, and the stylus can magnetically snap to the sides of both devices.
The Scribe is slightly wider because it has a wider bezel on the left-hand side. Conversely, the reMarkable is slightly taller because of a larger bezel below the screen. The reMarkable is thinner at 4.7mm compared to the Scribe's 5.8mm. The Scribe is heavier (433g) than the reMarkable (405g)
Both devices have a power button and USB-C port. For the Scribe, these are both on the left edge. I did have an issue with the Scribe whereby I would often inadvertently press the power button whilst holding it because of its location. For the reMarkable, the power button is on the top edge and the USB port is on the bottom edge (both in line with the silver strip on the left).
Overall, the Scribe and the reMarkable 2 are two of the best-designed devices on the market. I feel the remarkable has a very slight edge because it is thinner and lighter. And the location of the power button on the left side of the Scribe can sometimes be pressed by accident. But there really isn't much between them in this category.
Design & Build

AMAZON KINDLE SCRIBE

REMARKABLE 2
Hardware specs & features
When it comes down to hardware specs, there is no competition – the Kindle Scribe is the clear winner.
This is perhaps to be expected because the Kindle Scribe was only released at the end of November 2023 whilst the reMarkable 2 has been around since 2020.
Although the Scribe has an ever-so-slightly smaller screen (10.2″ compared to the reMarkable's 10.3″) it has a much higher pixel density (300dpi compared to the reMarkable's 226dpi). This means that images and text will appear clearer and crisper on the Scribe.
NOTE: When I first saw the Scribe's 300dpi screen, I honestly could not see the difference in clarity, but the more I have used it, the more I am able to discern and appreciate the difference.
The Scribe also has more storage capacity than the reMarkable – even the smallest 16Gb Scribe has more storage than the 11Mb reMarkable. Although Amazon has not published the CPU and RAM specs of the Scribe, they are most likely to be faster/bigger than the reMarkable. The reMarkable can sometimes struggle to open large PDFs and ePub files, which are a breeze for the Scribe
In addition, the Scribe has a frontlight, which means you can use it for reading and writing in dimly lit (and even pitch-black) environments. The reMarkable does not have a frontlight.
Finally, the Scribe has Bluetooth (for listening to audiobooks via headphones) and a G-Sensor (so that the page orientation changes automatically when the device is rotated). The reMarkable has neither of these.
Both tablets have connectivity via WiFi.
Update March 2023: reMarkable has released an optional keyboard folio which means that you can now type text straight into your notebooks. Even though the Scribe has Bluetooth, it does not support keyboard connectivity.
Although the Scribe has the best hardware and features of the two tablets being discussed in this article, there are other tablets on the market with even better specs.
Hardware

AMAZON KINDLE SCRIBE

REMARKABLE 2
Organisation
This section relates to the organisational features of the Kindle and reMarkable ecosystems. This includes the organisation of documents and notebooks within each proprietary file system, organisational features within notebooks themselves and the ease of transferring files to and from the tablet.
The home screen of both devices is essentially a list of files.
For the Scribe, this is the standard Kindle operating system with a home tab (for recent and recommended ebooks, documents and notebooks) and a library tab (which contains all documents/ebooks). There is also a notebooks tab which displays all your notebooks. There is a search bar for finding files by their name and options to sort files by various criteria including title and date modified. Documents and ebooks can be filtered by various criteria but notebooks cannot.
The reMarkable home screen shows a list of all your files. This can be filtered by notebooks, PDFs and documents. They can also be tagged with keywords or flagged as favourites. You can search your files by their title. There is also an option to integrate with third-party cloud storage system; Google Drive, DropBox and OneDrive. However, these integrations only allow you to browse the clouds and download files manually – there is no automatic synchronisation as there is with the Supernote and Boox devices.
For both the Scribe and reMarkable, files can be organised with customized hierarchical folders/sub-folders. Within notebooks, both tablets have a page overview, which allows you to view screenshots of up to 12 pages on a single page for easy navigation. Please note that sub-folders and page overview are features that have only recently been added to the Scribe with firmware updates (at launch, these basic features were missing).
To transfer files to a Kindle Scribe, you can either email them to your personal Kindle email address, or use the SendToKindle app (available through a browser, Chrome extension or Android/IOS apps).
The reMarkable supports file transfers using their app that can be accessed through a web browser, android, app, IOS app or Windows app. There is also a Read on Remarkable Chrome extension that can be used to send web-pages and Word/Powerpoint documents to your reMarkable as PDF files. As previously mentioned, the reMarkable can also integrate with third-party clouds from which files can be downloaded.
File transfers using a USB-C cable are possible with both tablets but are not advised. The reMarkable implementation is unsupported and uses an unstable HTTP-over-USB method, which, in my experience, often crashes. Amazon's implementation is more robust but it bypasses the file processing that occurs with the other methods, which means that some features will not work – for example, you cannot write on PDFs that are transferred using this method.
Notebooks on the reMarkable are automatically synched with the reMarkable cloud so that they can be accessed via the app and downloaded as PDF. They can also be exported and emailed straight from the tablet as either PDF, PNG, SVG or text.
The Scribe automatically syncs notebooks, ebooks, and documents so that they can be accessed on other devices with the Kindle app installed. Notebooks can also be exported and emailed as PDF files.
All-in-all the reMarkable has a wider variety of organisational features than the Scribe.
Organisation

AMAZON KINDLE SCRIBE

REMARKABLE 2
Note-taking
Both the Scribe and the reMarkable 2 have a native note-taking application but reMarkable's implementation is far more comprehensive.
The reMarkable has 8 brush tools; ballpoint, fineliner, marker, pencil, mechanical pencil, paintbrush, highlighter and calligraphy pen. In contrast, the Scribe originally only had a pen and highlighter (albeit with five line thicknesses, compared to the reMarkable's three). However, a recent update brought a pencil, marker, and fountain pen to the Scribe. Both devices utilise pressure and tilt sensitivity well, however I would say that the reMarkable has a slightly better implementation.
Both note-taking apps have an eraser and undo/redo options.
The reMarkable, however, has additional features that are not present on the Scribe, including:
Tags
Text insertion
Screen sharing
Adding and removing layers
The reMarkable also has a lasso-selection tool (for moving/resizing selections of handwriting) and handwriting-to-text conversion, which were originally missing from the Scribe. However, with recent updates, Amazon has added these features to the Scribe. Whilst converted handwriting on the reMarkable can be exported via email or inserted straight into the notebook, the Scribe only supports export of the text.
Neither of these tablets currently support handwriting search.
Because the reMarkable supports plain text within notebooks, it is also possible to create and edit notebooks from other devices using the reMarkable app (note that this is only for typed text and not drawing or handwriting, a requires a $3 per month Connect subscription). In addition, reMarkable also manufacture a keyboard folio (for additional cost) that can be used for text input. The only other device with a dedicated keyboard cover is the Boox Tab Ultra/Tab Ultra C, however third-party Bluetooth keyboards may be compatible with some other tablets.
When writing/sketching on both the reMarkable and the Scribe, the tactile feeling is very pleasant and natural. Both screens are rough and feel scratchy when writing, similar to a pencil on paper, and there is no perceivable latency.
With all the additional native note-taking features, the reMarkable wins in this category.
Note-taking

AMAZON KINDLE SCRIBE

REMARKABLE 2
Reading
The tables are turned once again with the reading app.
Of course, the Scribe uses the Kindle reader, which is one of the best e-readers available. It opens a wide range of different formats and has lots of features, such as changing the font (including the size and weight), text searching, bookmarks, dictionaries, X-ray etc. However, it should be noted that Kindle devices do not have 'native' support for ePubs – instead, these ebooks are converted to Kindle's proprietary KFX format when transferred to the Kindle via email or the SendtoKindle app. Consequently, ePubs that are sideloaded onto the tablet will not work.
The Scribe is also the only device on the market that allows you to make handwritten sticky notes within Kindle books.
In comparison, the reMarkable can only open PDF and EPUB file formats, and has a very limited set of e-reading configuration options (e.g. changing the width and orientation of the document). I have also experienced poor performance when opening large file documents on the reMarkable.
So, for reading, the Scribe is the clear winner.
Reading

AMAZON KINDLE SCRIBE

REMARKABLE 2
Versatility
E-ink writing tablets are primarily used for reading and note-taking, however, some devices offer additional functionality, such as email and the installation of apps from the Google Play Store.
Unfortunately, neither the Kindle Scribe nor the reMarkable 2 provide much more in the way of additional features.
The reMarkable 2 does support integrations with other cloud storage services (Google Drive, Dropbox, and OneDrive). They also provide desktop and mobile apps, so that users can organise their files away from their tablet. If you subscribe to reMarkable's Connect service ($3 per month), you can also use these apps for note-taking and editing existing notes.
The Scribe provides access to the Kindle Store, and the user's Kindle library, which includes audiobooks from Audible.
Compared to other e-ink tablets on the market, both the Scribe and the reMarkable 2 are very limited in what they can do beyond the core functions of reading documents and note-taking.
Versatility

AMAZON KINDLE SCRIBE

REMARKABLE 2
After-sales service
After-sales service includes areas such as returns, support and software updates.
Both reMarkable and Amazon offer free returns for their e-ink tablets, so you can buy with confidence that if you don't like it, or it doesn't work, you can easily send it back. reMarkable's returns policy is 100 days, whilst Amazon's is 30 days.
Similarly, both companies provide fairly decent support (via email) for any issues customers experience with their devices. I have contacted reMarkable and Amazon for support and can attest that they both provide a decent service.
There are regular software updates for the reMarkable 2, which, over the years have added additional features, made improvements and fixed bugs. reMarkable appear committed to continuously improving the user experience of its customer base. Although, I must say that more recent software updates have been rather underwhelming.
However, reMarkable hides some of its features behind a subscription paywall which they call Connect. They are the only manufacturer to use an optional subscription model that charges its customers additional fees after they have bought the device.
A couple of years ago, features such as handwriting recognition and screen sharing were blocked by reMarkable for non-subscribers (and the subscription fee was about $7 per month). More recently (after some backlash from their users), these features have been unlocked to all users, however, a $3 Connect subscription continues to exist that gives users access to unlimited cloud storage and note-taking via the desktop app.
Since its release in November 2022 (when note-taking features were very basic) the Scribe has received a number of software updates that have closed the gap somewhat on its competitors. It has introduced more brush types, lasso-select, handwriting-to-text conversion, and page overview features to its native note-taking app. This suggests that Amazon are committed to improving the Scribe (however, one might argue that these are basic features that should have been included from the start).
On the whole, both companies provide pretty good customer support, however reMarkable's business practices (primarily with the Connect subscription) do feel like they are designed to extract as much money from their customers as possible.
Customer Service

AMAZON KINDLE SCRIBE

REMARKABLE 2
Verdict
There's no denying that both the reMarkable 2 and the Kindle Scribe are beautifully designed and very robust e-ink tablets, but they have two very different target markets.
The reMarkable has been designed primarily for note-taking with some rudimentary reading features. In contrast, the Scribe has been designed primarily for reading with some rudimentary note-taking features.
Note: Since I originally wrote this, software updates for the Scribe have improved upon it's note-taking features – I still feel that the reMarkable is better in this regard but the gap is a lot smaller than it originally was.
And both tablets perform their key functionalities superbly; the reMarkable is one of the best tablets for note-taking and the Scribe is one of the best for reading.
Personally, I love both tablets for different reasons. I enjoy writing and sketching on my reMarkable but prefer my Scribe for reading and learning – the ability to take handwritten notes within Kindle books is great for research and academic work.
However, both devices are lacking in versatility outside of their primary focus, and although the reMarkable 2 and the Kindle Scribe are in my top 5 e-ink tablets, they fail to make the top 3 because of these limitations.
As things stand today, I think the reMarkable 2 has the edge as a note-taking device even though it is older and has a lower hardware spec. However, if I had to choose between the two and I was not too concerned about the initial writing experience, I would probably choose the Kindle Scribe.
This is because it is newer and has a fairly decent hardware spec and higher definition screen. The only where it falls behind is with the note-taking software, but I expect this will be improved over time.
In contrast, the reMarkable 2 is coming into its third year since it was released and although there are no whispers of a reMarkable 3 just yet, there's no saying when the next generation device will be announced.
Overall Rating

AMAZON KINDLE SCRIBE

REMARKABLE 2
Side-by-side spec comparison
To search, filter and compare ALL e-ink writing tablets, check out my comparison table.
PRODUCT
KINDLE SCRIBE
REMARKABLE 2
Specs & ratings info

👍 Recommended

👍 Recommended

My Rating
Price (approx)
$340

$380

Manufacturer
Amazon
reMarkable
Release year
2022
2020
SCREEN
KINDLE SCRIBE
REMARKABLE 2
Screen type
Carta 1200
CANVAS with Carta
Screen size
10.2"
10.3"
Screen resolution (B/W)
1830 x 2460 (approx)
1404 x 1872
Screen density (B/W)
300dpi
226dpi
Colour

⨯

⨯

Screen resolution (Colour)
n/a
n/a
Screen density (Colour)
n/a
n/a
Frontlight

⨯

Wacom compatible
Buy
HARDWARE
KINDLE SCRIBE
REMARKABLE 2
CPU
1Ghz
1.2Ghz dual-core
RAM
1Gb
1Gb
Storage
16-64Gb
8Gb
Battery
3000mAh
3000mAh
Super Refresh

⨯

⨯

Keyboard folio

⨯

Speakers

⨯

⨯

Microphone

⨯

⨯

G-Sensor

⨯

Ceramic Tip

⨯

⨯

Bluetooth

⨯

Fingerprint scanner

⨯

⨯

SD card slot

⨯

⨯

Rear camera

⨯

⨯

Front camera

⨯

⨯

Waterproof

⨯

⨯

USB-C
Width
196mm
187mm
Height
229mm
246mm
Thickness
5.8mm
4.7mm
Weight
433g
403.5g
Buy
SOFTWARE
KINDLE SCRIBE
REMARKABLE 2
Operating system
KindleOS
Linux (Codex)
Google Play Store

⨯

⨯

Kindle support

⨯

Handwriting search

⨯

⨯

Handwriting conversion
Insert shapes

⨯

⨯

Insert images

⨯

⨯

Split screen

⨯

⨯

Custom templates

⨯

⨯

No. templates
15+
45+
Brush types
Pen, Fountain Pen, Marker, Pencil, Highlighter
Ballpoint, Fineline, Pencil, Mechanical Pencil, Highlighter, Marker, Calligraphy, Paintbrush
Screen share

⨯

⨯

ADE support

⨯

⨯

File formats
PDF, EPUB (via conversion), DOC, DOCX, TXT, RTF, HTML, KFX (Kindle), AZW3, MOBI (Limited support), AZW (Limited support)
PDF, EPUB
File formats (image)
PNG, JPG, BMP, GIF
PNG, JPG
File formats (Audio)
AAX (Audible) via Bluetooth
-
Buy
BUY
KINDLE SCRIBE
REMARKABLE 2
Where to buy
Amazon AU
Amazon CA
Amazon DE
Amazon ES
Amazon FR
Amazon IT
Amazon UK
Amazon US
eBay AU
eBay CA
eBay DE
eBay ES
eBay FR
eBay IE
eBay IT
eBay UK
eBay US

ReMarkable
eBay AU
eBay CA
eBay DE
eBay ES
eBay FR
eBay IE
eBay IT
eBay UK
eBay US

PRODUCT
KINDLE SCRIBE
REMARKABLE 2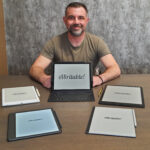 Dan Dutton is passionate about E-ink writing tablets, which bring together the pleasure of writing on paper with the power of digital technology. When he bought his first tablet, he realised that there wasn't a lot of unbiased information available for people that were considering buying an E-ink tablet, and so he built eWritable.