E-ink tablet aficionado Kit Betts-Masters and eWritable have collaborated to develop a tool for comparing e-ink devices according to real-world use cases.
Using the vast amount of data that Kit has collected over the years combined with his experience and expertise, eWritable built a tool that conveys this information as a spider diagram.
This choice of chart means that several different tablets can be compared against several different criteria simultaneously. This makes it easier to identify the areas in which tablets excel and where there is room for improvement.
So, for example, you could compare use cases such as presenting, art, reading and writing across devices such as the Boox Tab Ultra, Supernote A5 X, reMarkable 2, and Kindle Scribe, all at the same time!
We would like to say a massive 'Thank-You' to Kit for working with us on this project and we highly recommend that you check out his YouTube channel for regular e-ink writing tablet news, information, and reviews.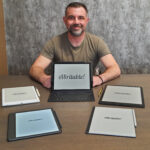 Dan Dutton is passionate about E-ink writing tablets, which bring together the pleasure of writing on paper with the power of digital technology. When he bought his first tablet, he realised that there wasn't a lot of unbiased information available for people that were considering buying an E-ink tablet, and so he built eWritable.